Trolley
The Barefoot Run (Corsa degli Scalzi)
Running barefoot on dusty and stony paths, carrying with others the statue of a saint.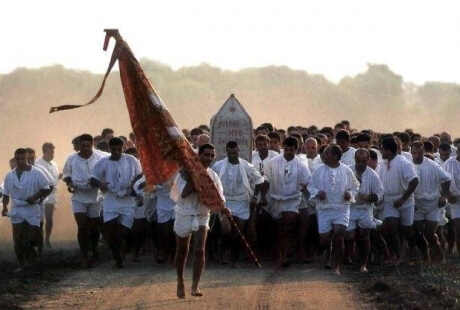 This too can happen in the life of a man, although it may seem a perplexing and strenuous task. At Cabras (Province of Oristano, central-western Sardinia), the barefoot run with the statue of San Salvatore is repeated each year on the first weekend in September (this year, Saturday 2 and Sunday 3 September): it's the Procession of San Salvatore di Sinis, better known as the "Barefoot Run".

The participants, known as Is Curridoris, at dawn on Saturday collect the wooden statue of San Salvatore from its usual abode in the Church of Santa Maria di Cabras and, running barefoot for about 7 km, carry it to the church of San Salvatore, in the nearby village of San Salvatore di Sinis. Then on Sunday they collect the saint's statue and, again running barefoot, return to Cabras. The whole event is surrounded by a host of enthusiastic and festive faithful who urge on Is Curridoris, these devoted athletes, to spare no effort to return safely to the town its "Santu Srabadori".

The fact that this is a running procession in itself suggests that Is Curridoris are running away from some threat. And indeed, in 1619 that is exactly what happened. For some time the Moorish pirates had been raiding the coasts of Sardinia, bringing death, pillage and destruction. When they landed at Cabras, the inhabitants, despairing of having their lives spared, thought they would at least protect the statue of their patron saint. If the effigy could be saved from the savagery of the Moors, it would preserve the village's identity and enable its future re-birth.

Thus, a group of inhabitants took the statue of the Saint and carried it running to San Salvatore in Sinis, where it would be kept safely. But these first heroic runners also had another idea. In place of shoes, they wound branches round their bare feet, so that they would raise as much dust as possible and thus seem many more in number than they actually were. Their trick worked well, since the Moors, afraid they would find themselves facing a great armed horde, preferred a strategic retreat and Cabras remained unharmed. The saviours of Salvatore were thus saved by Salvatore himself.

And just what does the Run of the Barefoot teach us? (try to see it if you can – for its unique popular piety and wide range of side events). It teaches us that symbols count, that to save ourselves from disarray and oblivion we must carry with us what best represents our identity, and begin to run: run fast to the next village.