Trolley
A very Sardinian post: the flag of the four Moors
Every region of Italy, as is obvious, has its own flag but we're willing to bet that the flag of Sardinia is the best known even to those who are not natives of the island.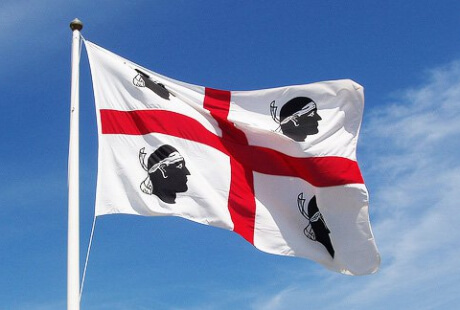 Indeed, everywhere there is a great event, be it the 1st May Concert or the celebrations for a football win, you will see at some stage the flag of the Four Moors being waved vigorously by some Sardinian or other. Indeed, for us this flag symbolises the deep and proud link with our land, albeit felt with varying degrees of intensity.

Surprisingly enough, we do not know precisely the historical origin and exact symbolic meaning of the flag. To put it another way, our greatest emotional investments are in something unknown and obscure. When on 19 June 1950, a Decree established the Four Moors as the official flag of Sardinia, Prof. Antonio Ena rose and made a speech in the Assembly criticising this choice: "Note that the symbol of the Four Moors does not represent, as many think, the Four "Giudicati", the kingdoms into which Sardinia was divided around 800-900 years ago, when it was free and independent; that is an error of historical interpretation so it is neither obvious nor necessary to choose this flag as our symbol". In short, this flag does not embody Sardinian identity as much as we believe.

And so what should we choose as the quintessential Sardinian symbol? For example, a historically verified variant which replaces the four enigmatic Moors with a shepherd, a farmer, a fisherman and a miner: to all intents and purposes, the original social and economic structure of Sardinia. But would not this be too trite a symbol? So trite that it would not even be a symbol, but just a representation?

So, let's consider a more radical image: the "desdichado", the uprooted tree, originally the symbol of the Giudicato of Arborea (today the area of Oristano). According to some, apart from being an ancient image, the desdichado also possesses deep symbolic significance: it can stand for the Sardinians, who are like a tree without roots, that is they built their own culture; theirs is a proud history of historic and ideal independence. But is that truly the case? That is, is it correct to maintain that anyone can grow without the contribution of others? Are we not always necessarily relating with others? And then, might not rejecting or minimizing the contribution of others in turn allow others to reject or minimize our contribution?

So in the end we have not yet found a "sardissimo"- truly Sardinian – banner. But our spellchecker might be after all right in highlighting "sardissimo" as a misspelt word: an error of perspective.