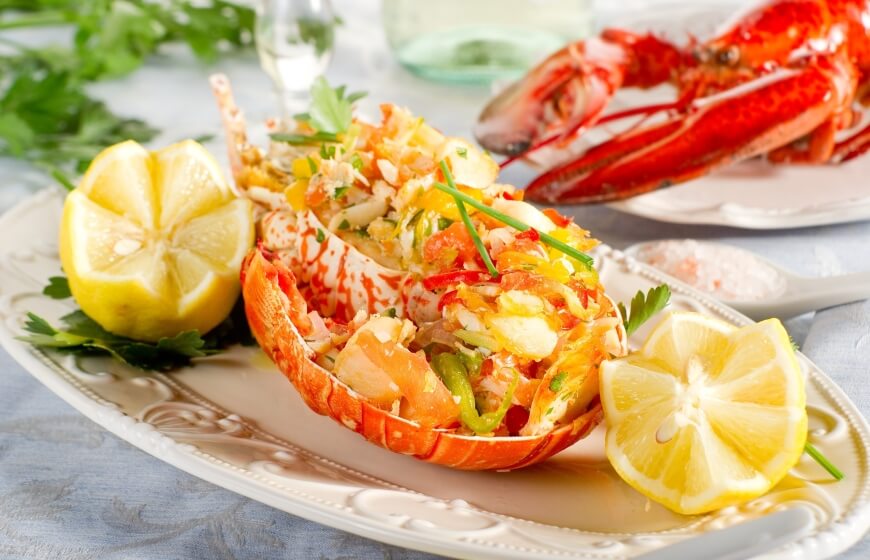 Alghero manages to surprise those who visit by affecting all five senses. Including that of taste! What our city has to offer gastronomically is very rich and ranges from appetisers to special desserts. There are numerous restaurants offering local cuisine, mainly located in the old town.
By the way, if you want to taste the excellent local fish in a truly characteristic setting, we suggest you head down to the typical Boqueria in the city market for lunch. The building housing the historic market is located just a short distance from our hotel, at the gateway to the oldest part of the city.
With that said, here are five delicacies that will make your experience even more special. It's unthinkable to leave the city without having tasted them all!
FISH IN AGLIATA
Simple and genuine, it is one of the tastiest and most flavourful dishes of the Riviera del Corallo fishermen's cuisine. The fish is accompanied by the famous garlic sauce, dried and fresh tomato, and vinegar. A full-bodied sauce with a dark red colour reminiscent of the colour of coral and the Catalan flag that flutters across the city. Today this tasty recipe is an appetiser or a main course that is intended as a tribute to the fishermen of the gulf.
MILESE FOCACCIA
Imagine biting into a fragrant, crispy focaccia, and moments later experiencing the explosion of a mix of fresh, bold flavours. We are talking about a true institution of island street food: the famous Milese focaccia, typical Sardinian bread and a series of simple but tasty ingredients. There are several variations. Our advice is to sample the famous "Milese", the most popular type, made with bacon, fresh tomato, onion and vinegar and with a special ingredient that, we assure you, will leave you speechless. You can decide to enjoy it in the historic restaurant where it was created, open since 1971, just a few steps from the harbour and still run by the family that invented this recipe, or have it wrapped and take it with you on your trips to the seashore.
SPAGHETTI WITH SEA URCHINS OR "BOGAMARÌ"
The famous sea urchin, in Algherese dialect "bogamarì", is one of the most characteristic products of Alghero's gastronomic identity. With its fascinating shape, the sea urchin is an increasingly rare delicacy, to be enjoyed especially in the period from late winter to early spring. This special food is traditionally eaten with bread and red wine, or used as a condiment for spaghetti. Its taste is truly special, we could say almost indescribable for those who have never tasted it. Certainly a unique flavour.
ARAGOSTA ALLA CATALANA
If you have a highly refined palate, get ready to savour the queen of the Alghero table: her majesty the Catalan lobster. Only when you admire this dish will you understand what people mean when they say that the sea in Alghero is beautiful and good. The lobster is quickly boiled and then its bright red shel is opened and the sweet, succulent meat is dressed with an oil and lemon sauce, sometimes with the addition of the crustacean's own eggs, and served with onions and fresh tomatoes. City history tells us that it was Moreno Cecchini, a historic Alghero restaurateur, who created this dish, or at least started it off as the city's signature dish.
TORTA MENJAR BLANC
Any self-respecting banquet has to end on a sweet note. The torta menjar blanc cake is the one that best represents the little Barcelona of Sardinia. This dessert of medieval origin consists of very simple ingredients such as milk and lemon peel, as well as the famous and typically Sardinian violada pastry. The preparation still follows methods of definite Catalan-Spanish derivation, influenced by medieval recipes of Arab origin. In short, a simple dish but at the same time, rich in history.