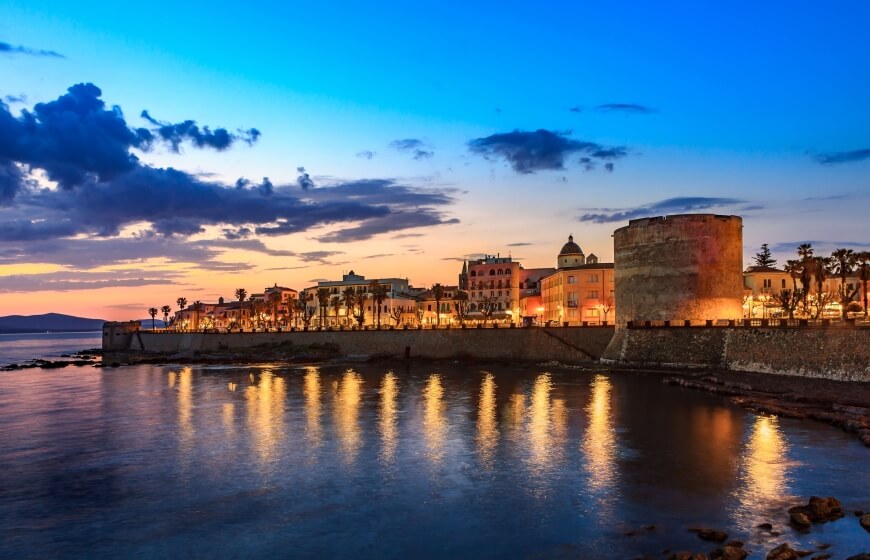 Imagine walking from our hotel to the centre and sipping your drink, caressed by the breeze and the light of the sunset.
Once you arrive on the Riviera del Corallo, let yourself take in the atmosphere, the people, the breathtaking views and the sea breeze of our city. Just outside the Catalunya, you will be immersed in the life of Alghero, with its towers which have retained their ancient charm and the walls you can walk along admiring the spectacular views.
Restaurants, bars and ice cream parlours animate the streets of the centre that wind through evocative alleys and lively squares. Via Carlo Alberto is the main street, known in the Middle Ages as Carrer Mercaders, the street of merchants.
Alghero is a city that is also celebrated for its gastronomic specialities, such as Catalan style lobster, paella and Alghero's agliata. Not forgetting the desserts: the Menjar Blanc, a delicate thickened cream pudding with lemon zest, is the typical dessert of the Riviera del Corallo.
The historic markets are a highlight of any holiday. The fish market is on Via Cagliari and the fruit and vegetable market on Via Sassari.
Don't miss the Cathedral of Santa Maria, the Church of San Michele with its famous polychrome-tiled dome, and to get a better understanding of the history of Alghero, visit the Coral Museum (MACOR) and the Archaeological Museum (MŪSA).