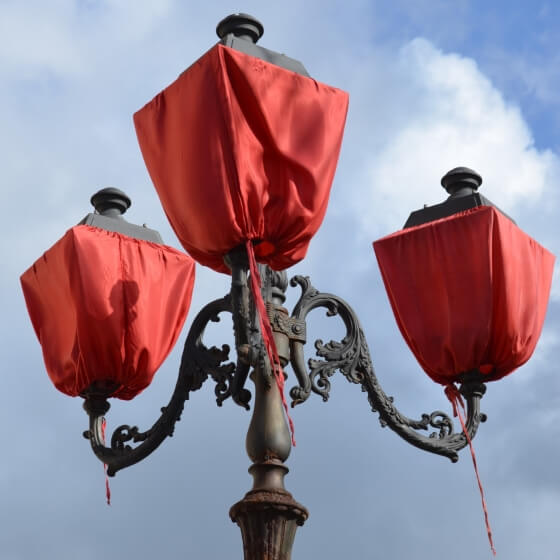 The traditional celebrations of Alghero linked to Holy Week and Easter are among the most special and evocative in the whole of Sardinia. Every single lamppost in its historic centre is covered with red cloth, lending a mysterious and fascinating appearance to the streets and the evocative religious processions attended by thousands of believers every year.
The origin of these rites has its roots in both Sardinian and Spanish culture, dating back as far as the 17th century, the time when Alghero was under Catalan rule.
To tell you the story of Easter in Alghero, we take you back in time to a cold January morning in the distant 1600s. On that day, the sailing ship Santa Maria di Montenero sailed from the port of Alicante towards Genoa, carrying passengers and goods, including a wonderful wooden Christ. Unfortunately, the sailing ship encountered adverse winds and never landed on the Ligurian coast, disastrously ending its voyage in the waters of the Bay of Nymphs, today's Bay of Porto Conte, in which it sank together with all its treasures. It is said that the chest containing the beautiful Crucifix of Alicante was found by Algherese fishermen and that after various disputes, it was brought to the Misericordia church, where its members began to guard the marvellous crucifix and venerate it for centuries to come, making it one of the most important symbols of the city's religious identity.
Today the celebrations of Holy Week, involving numerous Italian and Catalan confraternities, are still linked to those same origins.
In fact, it is the solemn processions that mark the Easter calendar. The celebrations begin with the Procession of the Sorrowful Virgin on Good Friday. On different days, the faithful cross the cobbled streets of the old town, usually towards dusk, when the warm lights of the city come on and the sky is coloured by the incredible hues of sunset. Slow and composed, the processions are coloured by lanterns, the characteristic red torches, held in the hands of the faithful along the way. Perhaps it is the solemn charm of the chants or the unusual clothes worn by the brotherhoods, but for a moment, you feel as if you have taken a trip back through the centuries.
On Easter Sunday morning, there is a joyful encounter between the two statues of the Risen Christ and the Glorious Madonna. On this occasion, from the churches of San Francesco and Misericordia, two distinct processions begin, respectively accompanying the Virgin and the Triumphant Christ. These meet in the middle of the cheering crowd, and throughout the old city the sound of bells is heard.
The statues precede the faithful into the church where the Easter mass is held in Catalan, and the distribution of the blessed bread takes place.
If you are tempted to discover Alghero in a different light, this is certainly an opportunity not to be missed!