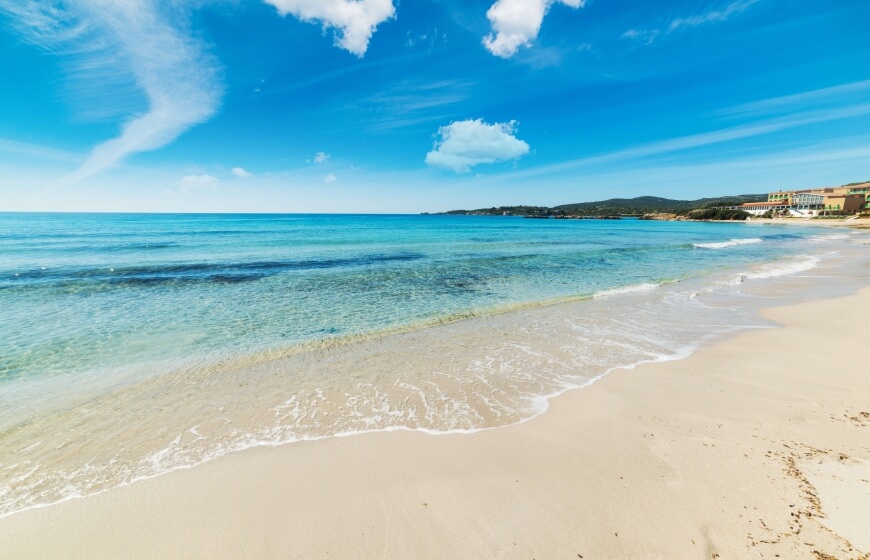 The territory of Alghero, with its 90 km of coastline, boasts some of the most beautiful beaches in Sardinia with crystal clear water and fine, white sand.
Sandy beaches and coves are all easily accessible by car, bus and some even on foot or by bicycle.
The best known and most sought-after beach is Bombarde with its white sand and spectacular sea. It is located about 10 km from Alghero and 3 km from Fertilia. It offers various services, from sunbed rental to bars and restaurants. Nearby, there are coves immersed in the green Mediterranean scrub and not far away, you can also find the Nuragic complex of Palmavera.
About 2 km from Bombarde there is another of Alghero's jewels: the beach of Lazzaretto, surrounded by myrtle and lentiscus bushes. It owes its name to the sixteenth-century tower – also called the tower of Capo Galera – which stands on the cliff. Visitors are enchanted by the turquoise sea with its shallow, sandy seabed. On either side of the beach are several small, sheltered coves. Here too, various services are available, from parking to refreshments and parasol and sunbed rental.
Another fabulous beach on the Corallo Riviera is Mugoni. It is about 16 km from the city, located in the bay of Porto Conte, within the regional park of the same name which also includes the marine area of Capo Caccia. It is a sheltered beach with a two-kilometre stretch of sand, backed by pines and eucalyptus trees. It is described by tourists as paradise, and with good reason.
Services include sunbed and umbrella hire, boat rental, a diving centre, bars, restaurants and ample parking.
Back towards the city centre of Alghero, are the three km of soft, white sand and shallow waters of Lido San Giovanni and the adjoining beautiful beach of Maria Pia.  Both can also be reached on foot.
Along the 90 km of coastline there are other beaches which deserve a mention, such as Punta Negra, Cala Dragunara, Porto Ferro, Porticciolo and on the road to Bosa, Cala Burantì and Poglina beach, known as "spiaggia della Speranza" ("Hope beach"). Although it is in Villanove Monteleone, Poglina is situated only 8 km from Alghero and is definitely worth a visit.