Trolley
Twenty thousand wines under the seas: Akènta from the Santa Maria la Palma Cellar in Alghero
We are all familiar with the ad for a famous tonic liquor.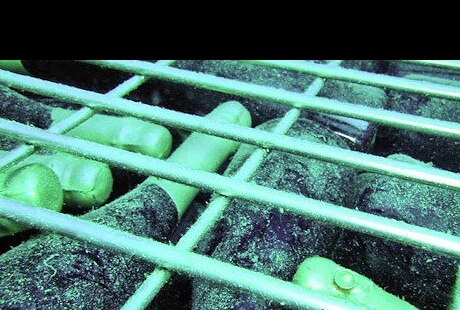 The plot is always the same: they've got a very serious and very unusual problem (for example, an entire orchestra of musicians expected at a celebration is trapped on a barge and drifting at sea); the problem needs to be solved urgently but is complicated; men used to danger are needed, with surnames like "Death" in the phonebook. Thanks to their nerves of steel, to their powerful muscles and to the deployment of extraordinary means (from planes to motorboats), the problem is masterfully resolved: "It seemed impossible but we managed it". They can finally relax with a good tonic liquor (we'd bet that the evening ends with a contest over who has the most sculpted abs).
Come to think about it, these types of stories could also take place in Alghero, running the same precarious razor edge balance with reality. Specifically, we could imagine a conversation along the following lines:
"It's grandfather's 90th birthday today and I completely forgot to buy a bottle of Spumante to celebrate with!"
"Don't worry darling. I'll put on my wetsuit and scuba tank and dive 30 metres to get a bottle".
"That's why I married you: because you always know where to fish for happiness…".

Sound ridiculous? Yes, looking at it from one point of view it is: it would be ridiculous to think that a husband would be so keen to go out and put right his wife's oversight. But as for everything else, the scenario is perfectly plausible. In fact, Alghero's Santa Maria la Palma wine cellar ages its renowned Akènta Spumante for seven months on the sea bed, 30 metres below the surface, in the marine protected area of Capo Caccia-Isola Piana.

The idea isn't actually ridiculous or weird. The sea is the most perfect of perfect wine cellars, proof of this can be seen in the underwater discovery of Greco-Roman amphorae containing wine with its organoleptic properties still intact. The sea bed offers the perfect balance between temperature, pressure and light, along with the constant and gentle movement of the underwater currents. The stable temperature and pressure, together with the low levels of sunlight, favour the aging process of a sparkling wine free from issues linked to oxidation and reduction, exceptionally fresh and full-bodied on the palate.

The first group of 700 bottles was placed in the underwater wine cellar from May to November 2014 and, considering the excellent results obtained, the experiment will most likely continue. And after all, it would be nice, sooner or later, to uncork a bottle wrapped in coral.