Trolley
Alghero blanc mange
Menjar blanc: 'eating in white', thus eating a colour, eating based on colour, eating for colour.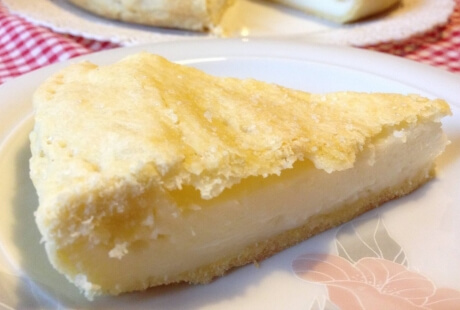 These are the ideas underlying the Blanc manger, as the French call it. This is a typical specific dish belonging to Alghero: elsewhere in Sardinia it is prepared only in the Campidano area where it is known as Pappai biancu. But in effect 'biancomangiare' can be found in many places all over Europe and it is a relic of medieval cuisine. In fact, it would seem that in the Middle Ages, food was chosen above all because of its colour. Funny, isn't it? Usually, we are led to think of the Middle Ages as the Dark Ages, shady, cloudy, lacking in colour. All romantic fantasies we still hold on to. In actual fact, medieval times put a lot of faith in colour and for them, 'white' on the table was the sign of healthy, sustaining food, a godsend to ward off all ills.

Originally, this 'white' food could be either sweet or salty. Here in Alghero it is only sweet and it is presented in the shape of a cake, again typically medieval, a flaky pastry known as pasta violada, made with lard and flour, and in our case with a creamy white filling. What could be more practical? Easy to cook and carry, and edible in all its parts. But how is the white filling made? Rice or wheat starch is used as thickening agent, combined with full-fat milk, sugar and grated lemon peel. These ingredients are beaten together until they are of the right texture to be the filling of the pasta violada.

So, in Sardinia 'eating in white' means eating Alghero-style. But we find eating by colour elsewhere too. Once somebody asked Andy Warhol, "Which ice-cream flavour do you prefer?" And he, after brief reflection, said, "White".