Trolley
Alghero's markets and Nietzsche's philosophy
"Where solitude endeth, there beginneth the market-place; and where the market-place beginneth, there beginneth also the noise of the great actors."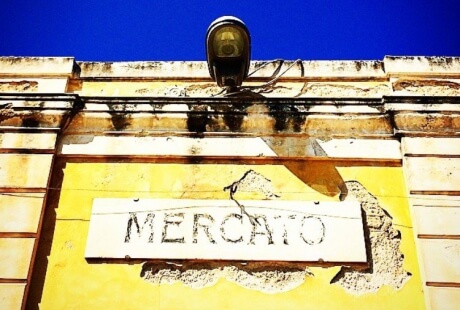 Thus spoke Zarathustra. In reality, thus wrote Nietzsche, who found marketplaces to be the ideal stage to announce the most frightful philosophical prophecies.
And indeed he wasn't wrong. Markets can lead to the temptation to glimpse something like a celestially swollen hysteria, a hoarding of lifeboats, a mass exodus towards the only accessible door in a burning building. Vendors always shout out that it's the last chance, that there won't be any more, that you need to buy this sea bass: you'll never again find it at this price. Indeed, you'll never find it again, full stop: that sea bass, if you don't take it, someone else will, that's life, anything that is generously offered to you can be taken away definitively a second later. Markets are cruel and vital places: cruel because they're vital, vital because they're cruel.
In Alghero there are spots like this, spots, that is, that are so symbolically human and, to be honest, the goodness that can be found there is anything but symbolic. Talking of sea bass, the central Mercato Civico in via Cagliari is the fish market. Fishermen bring the fruit of their labours at sea to the market and, mindful of what we said above, it's best not to delay, to think about it too much: be clear headed and decisive because the race to get the best catch is taken very seriously. However, it's also worth experiencing it from the viewpoint of a detached observer. It's not just a matter of smells and colours, but also sounds: the language of Alghero spoken by the vendors that unfolds like a song is both persuasive and scathing at the same time, conveying the expressive force and the historical density of our language. If you also take into account the fact that inside the Mercato there are two eateries serving excellent fish, we think that we have shown you the perfect starting place to reach the heart of Alghero.
The other traditional market in our town is the fruit and vegetables market in via Sassari where the seasons, persuading our land to bear fruit, lay down on the stalls all they have to give. A loud unconditional showing of fruits and vegetables up to the demands of even the most insatiable palate. And not forgetting the Mercato Civico in via Amalfi, a stone's throw from the sea, with its complete showing of traditional local products and a small market selling objects and clothes that will tickle your more materialistic side.
Each Wednesday, along viale Europa, there is a weekly market - a procession of cold cuts, cheeses, fruits and vegetables. Every Thursday, in the Sant'Agostino neighbourhood, you will find a small market selling exclusively locally-produced products in the presence of the producers themselves – the so-called "Km 0" market. Because Km 0 means essentially being there, thinking of oneself as something that stubbornly remains while the rest passes, moves away and finally the universe expands at a dizzying speed.