Trolley
Bottarga – as a rhetoric expedient
Butàriga… how come we never found time to talk about it before?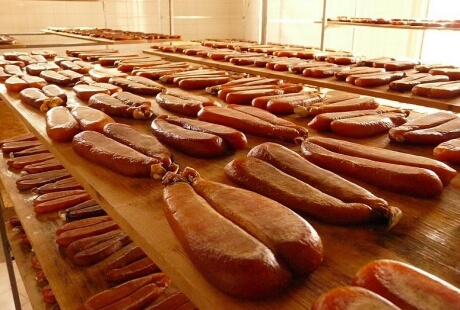 Truth be known, we felt there was something missing from these posts. Finally, we have understood just what: a good dusting of bottarga. Yes, now everything's perfect. We can stop reading about it and get down to the important work of eating it. And I defy you to think of anything that doesn't taste delicious with a light sprinkle of Alghero – or at least Sardinian - bottarga.

Basically this is the original function of bottarga – to turn a food without too much taste into something really tasty or to console our stomach for the sparse rations received. Of course, nowadays, they call it – and with good reason – the caviar of the Mediterranean, but in the past it was quite simply something dreamt up by the fishermen to work their way round the numerous obstacles which lay in wait between them and a full stomach. This, naturally, takes away nothing of its goodness, indeed we might say it renders it 'noble', revealing its roots in the exquisitely human terrain of need, in the most undeniable of truths – to assuage hunger.

But what exactly is the bottarga of Alghero? Basically it comes from mullet, being more delicate than that derived from tuna, but you should also taste the much rarer variety derived from ling roe (le huevas de maruca). Ling is quite rare in the Mediterranean, it lives only off our coasts but in deep waters, near cliffs (perhaps feeling the need to keep far from men – and who can blame them?). Yes, as we were saying, difficult to find. But when our fishermen do manage to find it, they certainly don't let it escape and from it they make this very special bottarga, deep orange in colour and even more delicate than that made from mullet, ideal for eating as is, very thinly sliced. What a shame for our poor blog – all full of teeth marks!