Trolley
An emotional tour round Alghero's beaches: Cala Dragunara
Summer is nearly here – it might not seem so, on these days of poor weather, but it's the truth.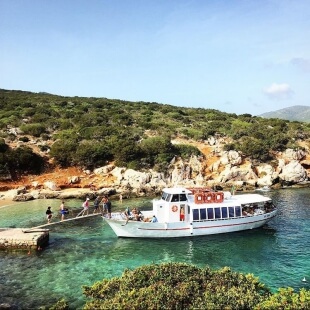 What's more, just saying it makes one feel optimistic; it's much better than carrying round an umbrella. So, starting from today, I'm going to tell you about Alghero's best beaches: there are many of them, each with its own personality. By the time summer arrives, I hope to have provided you with a handy map showing where and how to spend your time enjoying the sea and sun and all the other splendid gifts of nature.
Let's start from the small bay that is a departing point for many visitors - Cala Dragunara. Why is that? Well, Cala Dragunara is where you can take the boat to Neptune's Caves, an absolute must for all tourists. But although it's best known for this service (summer only) Cala Dragunara is a lovely beach in its own right. Indeed, it's the place where you can embrace the very essence of the sea of Alghero.
What are the distinctive traits of Alghero's sea? Be sure we're not talking of the sea alone, but a splendid symbiosis between water, rocks, light, colours and scents. And it is right here at Cala Dragunara that this relationship is best and most classically expressed. Here we find the free play between the emerald and turquoise sea and the shining white rocks which enfold it protecting it from the blustery wind; between the scent of the sea reminiscent of wet coral (if coral had a scent this would be it) and the intensely aromatic notes which spread from the Mediterranean maquis covering the rocks; between the fine, golden-white sand of the beach and the sea teeming with life, rich in rocky cavities, a true diver's delight.
Cala Dragunara is easy to reach: from Alghero, drive towards Capo Caccia and almost 4 km after Tramariglio, take the small road on the left leading downwards which will take you straight to the bay. The beach has easy access for prams, pushchairs and wheelchairs – you can also rent sun loungers and beach umbrellas; bar and toilet facilities available. Just one piece of advice – the beach is very small and in the summer it gets quite crowded as a result of its stunning beauty and the fact that the ferry leaves from here. So if you really want to appreciate this beautiful spot, we suggest that during the summer months you go there either in the early morning or late afternoon, to fully enjoy its exceptional unspoilt beauty.