Trolley
Capo Caccia
Up to the 19th century, if you had been rich bourgeois or nobles and you found yourselves at Alghero, then it's very likely that in good weather someone would have taken you on a boat trip round a huge headland of limestone rock.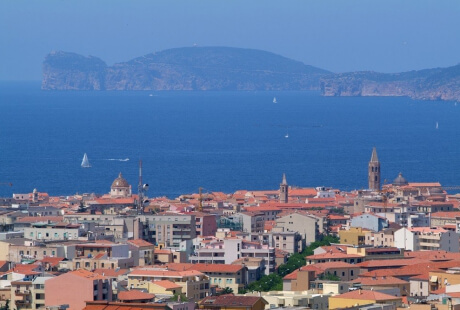 From your stylish ship, dressed in the height of fashion in fox-hunting gear, you would have gone hunting, not for fox but for the humbler wild pigeons which nested on the cliffs of this huge promontory. In the 19th century, it was quite easy for the rich bourgeoisie to leave lasting traces in history, even when they dedicated their time to sporting and indeed somewhat vain activities such as shooting wild pigeons from a boat. In the end, this promontory took its name from this hunting activity and thus became known as Capo Caccia (Hunting Cape).

Today, our poor wild pigeons are fortunately well protected (we can't say the same for the bourgeoisie who are not doing as well as they did in the 19th century!). Indeed, Capo Caccia has become a permanent wildlife sanctuary, so we might well name it now 'Capo Divieto di Caccia' or 'No-hunting Cape', but historical memory should be respected so the Cape has kept the name it got from the tragic fate of the pigeons.

Apart from its history, Capo Caccia is like an iceberg: that part of its beauty emerging from the sea is only a small portion of the sublime and vast part which is submerged. If from on high you can trace with your gaze the whole Gulf of Alghero as far as the white island of Foradada, at sea level you will find no less than seven caves, the most famous being that named for the sea god Neptune (I have already mentioned it in this blog). But the beauty of Capo Caccia continues also beneath the sea, where six submerged caves form a paradise for divers; among these, the Grotta di Nereo is the largest in the Mediterranean.

By and large, what with sublime sights both above and below the sea, amidst Bonelli's eagles, falcons, gulls and storm petrels, amidst sheer cliffs and rocks which seem dropped directly from the moon, Capo Caccia is the place in which we experience first-hand the meaning of the word "immense".