Trolley
Castelsardo and persistence
Try to take it. Equip yourself with everything you can: armour, spears, arrows, swords, ladders and try to take Castelsardo.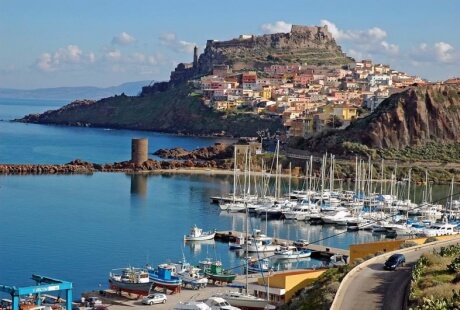 More than likely you'll end up deciding to hang up your helmet on a nail because it will all have been entirely in vain, an experience so frustrating that you'll decide to dedicate yourself to something other than laying siege to fortified cities. And who could blame you? Off the top of your head we're sure you can come up with hundreds of other more interesting and constructive things to do than this.
But don't be too hard on yourselves: Castelsardo cannot be taken (or at least couldn't until the advent of modern armies). Built by the Doria family in the 12th century on a promontory overlooking the Gulf of Asinara, the fortress has weathered the passing of the centuries unscathed and even today finding yourself facing up to it feels like facing up to a sort of prehistoric creature, an armoured being that is not cowered by any type of fang or claw. By night, the armour is illuminated by the lights of the houses and the streets and the promontory takes on the appearance of the back of a whale romantically exposed to the ever-present winds.
Castelsardo is made of rock, is born of the rock and returns to the rock, as if the confines between construction and nature were constantly sliding back and forth, were fleeting. Take, for example, the cathedral of Sant'Antonio Abate. This too, just like large parts of the city, overhangs the sea; so, after visiting the cathedral, try to answer this question: what substantial difference is there between its bell tower and the rock on which it is erected or upon which it appears to be stuck? This cathedral, this eminently human construction, this strictly cultural product, in what way is it different from the famous Elephant Rock, sculpted by the wind into the shape of, indeed, an elephant? The answer might cause you some embarrassment.