Trolley
Cocktails at the Blau Skybar and their effects (Sittin' on top of the world)
Today's post has a clearly scientific intent: it aims to define the exact effects of sipping cocktails at our Blau Skybar.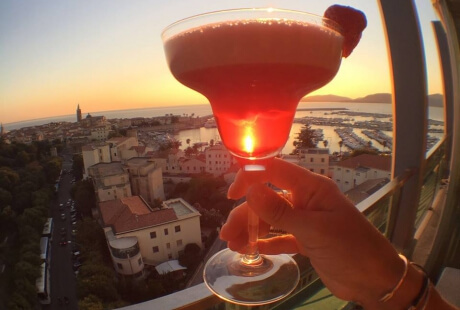 We posit that this activity increases hugely the capacity of producing poetry, establishing good social relationships and seeing the deeper meaning of our life. Theses effects would seem to depend on the extraordinary height above Alghero of the Blau and consequently its increased closeness to certain outposts of beauty, being and freedom. To clarify the argument let's take a closer look at some specific cocktails.
Spritz: this ubiquitous, almost commonplace aperitif, at the Blau becomes something metaphysical, similar to a Leibnitz monad with a slice of orange. After drinking it some of our guests became incredibly like Plato!
Martini: at the Blau, you can sip not just a white, red or dry Martini, but also the "Emily Dickinson" version. Indeed it's quite common to find guests who mirroring themselves in their Martini, embracing the purple flames of the sunset which enfolds them from all sides, will start murmuring lines such as: "That Love is all there is, is all we know of Love". From behind the bar counter, we have often glimpsed romantic kisses.
Pastis: Sartre once remarked that no inhabitant of Paris would take even the smallest step outside the city without asking himself how far he had moved away from Paris. That might well be true, but not at the Blau. We have seen Parisians – and not only Parisians – with a glass of pastis in their hands gaze at a far off point over the sea without thinking of anything that was actually measurable of quantifiable.
Campari soda: in the heights of the Blau, a Campari soda on your table, facing the exceptional view made of light, sea and sky, which from your eyes reaches straight to the heart, the first impulse is to grab a guitar and start playing that old blues of the Mississippi Sheiks, Sittin' on Top of the World, which at the end goes: "The lonesome days, they have gone by / Why should you beg me and say goodbye / But now she's gone, I don't worry / I'm sittin' on top of the world".