Trolley
Easter is essential in 2016
The "Setmana Santa" (Holy Week) of Alghero: we already talked of this last year in our blog. This is a celebration involving the whole town from Good Friday to Easter Sunday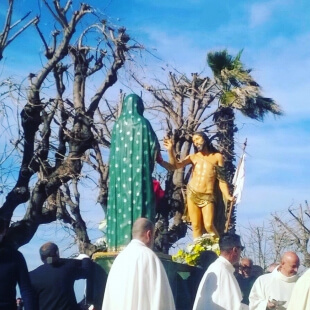 Good Friday is the culminating point of the grief of Easter, the terrifying abyss of death, the devastating folly of Man who oppresses, torments and massacres his fellow-beings, corruption which devours body and soul. Alghero is a town coloured by the red drapes covering the lampposts, the farols which spread their trembling shadows all around, as if they were furtive frightened existences which continually appear from and disappear into the walls.
And we have deep knowledge of these aspects: firstly our seven young girls dead in Spain, then the attacks on Brussels. A flood of innocent blood. Red drapes even shut out the light of the sun: everything becomes purple, livid, and it is full day. But if that were all it was, if our thoughts stopped before the wall of such horror, there would truly be nothing else to say. But, on Sunday the impenetrable mystery of death will be breached, resolved: there will once again be so many new days to live together, and words to tell their tales.
Of course, we always need the comfort of resurrection; resurrect we must, above all because it's possible.
We here at the Catalunya offer you our very best wishes for a serene and peaceful Easter, all the more imperative this year, leaving you with this thought by Dostoevsky: "all resurrection, all salvation, from whatever perdition, lies in love; in fact, it is the only way to it".