Trolley
Franca Masu: the call from the depths
There is something radically feminine in Franca Masu's song, something welcoming, subterranean and instinctive.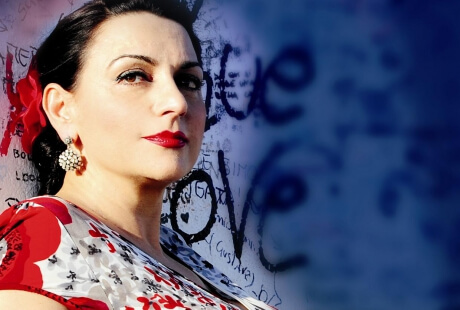 This profoundly Algherese woman, singing, doesn't seem to produce notes; rather she seems to bring them into the world after having sensually conceived them by crossing land, sea and stories of people.
Her art rests upon the acceptance, painful but essential, that things, all things, wane. But if, waning, they appear to get lost or to lose us, the music shows us that in reality they disappear from our external gaze only because they descend inside us and, settling deep down, low down, they become part of our own foundation. Franca's voice is an existential archaeology, a speleology of the spirit: it begins at the low octaves, from the depths from where corals, in which the past is magnificently represented, are fished; and then it climbs up high with its precious cargo to restore it at the summit of the scale, the wind, the light, the sun, the warm embracing fluidity of living things.

Among these is also the language of Alghero that is not only spoken, but also sung: and here is Franca's most important insight. If spoken languages are living languages, sung languages are life-giving languages; languages that don't only receive life from those who use them but, after receiving this life, restore it, multiplied. Franca understands that using the Alghero language in song is more than simply a way to keep this language alive; it's also a way of giving life through it. In practice, we could expect more things from her sounds, from her rhythmic possibilities, we could draw useful resources to give an effective poetic form to our emotive essence, always in search of a voice with which to speak and transmit to others.

Franca's quest, started in 1998 and materialised in 2000 with the release of her album El meu viatge, has unravelled right up until today like a current that spreads from one bank of the Mediterranean to the other, even making landfall in Portugal with the Fado tradition and from there setting sail for the Americas and finally going ashore among sinisterly sensual Argentinian tangos. She is able to make these artistic travels without ever losing sight of her own identifiable viscerality, of her capacity to sink into the immense expressive and auditory heritage of a such a visceral language as that of Alghero. It's about her, our, belonging to this island, Sardinia: an ark of stone travelling through the world.

The language of Alghero, the language from the depths: this is the language in which Franca Masu sings. Her song is visceral; her song that is given life by the land, the sea and the stories of the people.