Trolley
Intimate reflections on the Giro d'Italia
"ALGHERO – OLBIA. An uneven stage, but not too much: constantly undulating and marked by an endless series of uphill and downhill stretches along the northern coast of the island".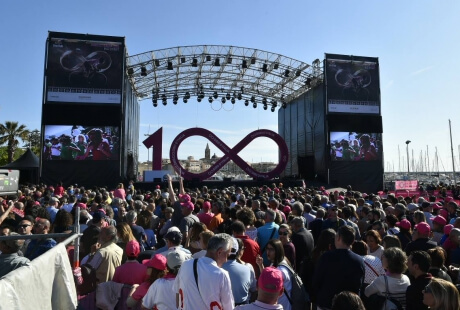 That's what we can read on the website of the Giro d'Italia, as we read it again with pride and already a little nostalgia. The cyclists' whirring wheels have left the island, but they have left behind a faint pink trace, a design which is "constantly undulating", "all coves and gulfs", Manzoni might have said, where everyone can see what he pleases, as happens with certain rocks in Sardinia shaped by wind and wave.

And just what do we see? First of all we see summer knocking at the door and a host of trips, road adventures, which you will shortly be able to live on the island. Routes which link in "an endless series of uphill and downhill stretches" towns and villages, people and animals, faces and stones, past and present, expansive vistas of open seas and the secretive countryside filled by the resinous scent of Mediterranean scrubland. The racing cyclists embody the freedom suggested by our obstinate wind that blows across our bodies and bends our souls as it does with the tree tops, so that often they lightly touch one another; when this happens, they say that love may be born.

Yes, the Giro, with its noisy, festive, exciting, enthusiastic caravan, has moved on to the mainland. But it has left us the essential core: we still have all the roads with their promise of precious trips, magnificent scenery, the power of the waves pounding the shore and promises to believe in. So, thank you, Giro, for having started for the hundredth time and for having started right here. We, on the other hand, have remained here (someone had to stay, right?). Yet as if we were still on the first stage of the race, we still feel always, softly undulating!