Trolley
I love you, you red oxen!
"T'amo, o pio bove"… how can we fault good old Carducci? Let it never be said!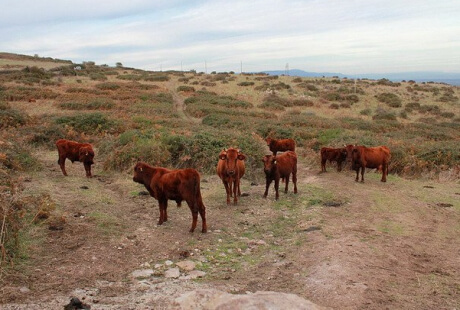 All the more if you happen to wander through the pasture lands of the Montiferru region, a fascinating spreader under the dome of the sky of the fugitive scents of chamomile and myrtle. So, as we were saying, you might easily come across some exemplars of our solemn red oxen, browsing through the pastures, spread out like great carpets through the network of lava valleys created more than a million and a half years ago.

A sphinx with a sardonic, far-off gaze, as if sculpted from precious wood, at one time the red oxen was a much sought after work mate in the fields due to his extraordinary strength and resistance. But above all he was sought after for his delicious meat, tasty, lean and genuine. And it was above all our French cousins who sought it. Then in the fifties and sixties, the consumption of red meat increased and other foreign breeds, more abundant and cheaper, took over pole position. From that time onwards, breeding of the red oxen decreased notably and today there are no more than 3000 exemplars left, all living in the wild, winter and summer alike.

Indeed, only here in Sardinia can you savour this tasty, genuine meat, and you can taste it in various ways, for example petza in brou, boiled and perfumed with wild herbs, or how about petza arrustia, spit-roasted close to burning embers. But it's also delicious as ghisau, that is stewed or how about the enticing bombas, small meat balls either fried or cooked in broth. But it's not just a question of food – this beast also has his own beauty, not forgetting the beauty of the place where he ranges free year round: "his grave, dim eye reflects in full and in peace the divine silence of nature's green". Yes, good old Carducci… perhaps we ought to go back and read him again.