Trolley
Kentos, Bread with a Millenary History
Bread – what a short word, yet one that manages to contain so many worlds, symbols, stories and culture!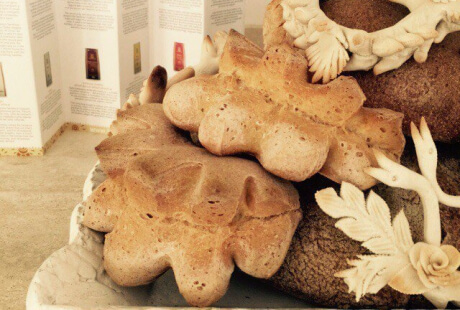 Perhaps it's true that language is just a convention, a useful tool to define human activities, an invention which has little or no connection with the essence of things. Because if words were truly implied in things, then "bread" should have at least 80 syllables. But then who could pronounce it? How could those who are hungry express such a long sound? The word "bread" is just as useful as the word "help" – so let's keep it as it is.
Short as its name might be, we know very well how much work and skill are required to make it – so much so that for breakfast we offer one of the best and most carefully crafted types made in Sardinia: Kentos bread from Orroli, a small village in the Sarcidano area with a long wheat-growing and breadmaking tradition.
We have chosen this bread for our guests above all because of its excellent quality and taste. And it is fully organic according to present-day standards, although its producers proudly point out they have not just been following the current trends. "We have always had deep respect for the land, its fruits and the people who live and work there. So we have always been 'organic', without even knowing it. And today, proud of our long tradition, we have obtained certification. "
As a sign of that pride they have chosen the slogan for their bread: "Kentos – The bread of the centenarians", referring to the great number of long-lived persons in the village of Orroli. Could this bread hold the secret to longevity? The same longevity of the mother dough which Kentos uses to make its bread: a living organism handed down from mother to daughter (in Sardinia breadmaking is traditionally part of the women's realm) for at least 300 years. Something carried directly from ancient times to our table. Bread: what a short word!