Trolley
The top five dishes of Alghero's cuisine
When we are far away from Alghero, we always wish we could be back there.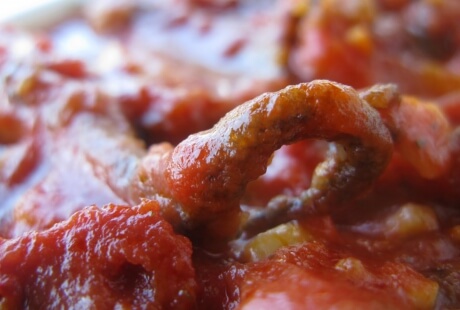 And if we can't do it physically, we try to do it in other ways: we hook on to a memory, we look at a photo, we follow up a feeling, we search for a flavour. To make this daydream easier for you, this time we will be taking of the most delicious dishes of Alghero. Like Proust's madeleine they will set you immediately on the traces of lost time, that is the happy time you spent in Alghero. So now to the tasty contents of this post:
5. Copatza de peix. This is a fish stew, the signature dish of all seaside towns, marked by local flavours and traditions, by the cooking secrets handed down in the magic-alchemic grotto known as 'kitchen'. The copatza de peix is the food counterpart of Alghero's coral.

4. Agliata. A cut-up of garlic, dried tomatoes, parsley and chili pepper, fried gently in extra virgin olive oil, with the addition of peeled tomatoes, salt and vinegar. This, in short, is the agliata: a dressing to be generously added to fried or boiled fish. What's so special about it? Quite simply it contains the very essence of the simple cuisine of the Alghero fishermen, something handed down from remote times in which garlic was the most effective and tasty way of extending the freshness of food.

3. Bogamarì. The sea urchin. The whole of Alghero yearns after this succulent reddish pulp, an intense extract of the sea's flavour. With the bogamarì the expression: "I love the sea of Alghero" takes on a truly literal sense, with deep meaning. During March, the ideal month for its catch, the town holds the long-awaited Festival of the Bogamarì, where the sea urchin is presented in a whole series of traditional local recipes.

2. Paella algherese. As is well known, Alghero has a long historic link to Catalonia (the name of our Hotel is witness to this fact). This is celebrated by Alghero's paella, which is the local (and ancient) take on a typical Spanish dish. Here, rice is replaced by fregola, a durum wheat pasta from Sardinia, which is combined with the typical ingredients of Catalan paella.

1. Aragosta alla catalana. The delicious, unforgettable lobster dish of Alghero is presented, like a haughty queen, on a bed of cherry tomatoes and finely sliced onions, dressed with a sauce of oil, vinegar, lemon and black pepper. A true masterpiece of taste and flavour. Words fail when attempting to describe the simplest yet most lavish dish of Alghero
Words fail when attempting to describe the simplest yet most lavish dish of Alghero.