Trolley
Myrtle Liqueur from Alghero: the Tinges of Red Coral in a Glass
In our last post we talked about the Mistral, which is the most typical wind blowing round Alghero, so much so that it's almost become a part of the scenery. But we forgot to mention one important thing: the scent which the Mistral has here at Alghero.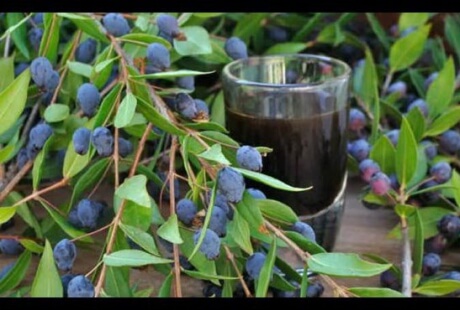 Difficult to forget if you've ever visited our city – a scent blending the saltiness of the sea with the tannic sweetness of the myrtle shrub, a hardy plant which clothes the rocky terrain of Cape Caccia, where the wind draws out its perfume.
In the Middle Ages, perfume makers extracted from this shrub what was known as "acqua degli angeli" (angel water), as if paradise sent a scented rain onto the earth. We inhabitants of Alghero on the other hand (and Sardinians in general) use the berries, blossoms and bark of this plant to make myrtle liqueur. Firstly we steep the berries in 95% pure alcohol for about 70 days. Then we add honey, another prized product from Sardinia, and obtain an infusion with between 28% - 36% alcohol by volume. Then the liqueur is left to age for several months, after which time it has taken on the splendid red hues of our coral.
With its slightly tannic, astringent taste, myrtle liqueur when served cold at the end of a meal is an excellent digestive. Above all, as we slowly savour it we are reminded once again that Alghero has persistent traces of the Earthly Paradise.