Trolley
In search of the lost "pizzetta sfoglia"
Let's give Cagliari its due – for a start this round savoury puff pastry called "pizzetta sfoglia".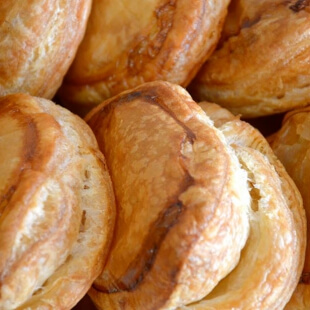 For true 'Cagliaritani' it is almost an addiction, an element of their identity, an ideal form of nourishment. Nothing too complicated – two small circles of puff pastry stuck together and with a stuffing, according to the classic recipe, of tomatoes, capers and at times anchovies. And yet, in spite of its simplicity – or perhaps because of it – on mainland Italy it can't be found. On our island, yes, where this small culinary icon has spread from Cagliari almost everywhere. Alghero, obviously, is no exception. Never missing in the bars, even eaten at breakfast, perfect at aperitif time (and appreciated at that time of day well before the aperitif became the social rite it is today), and at all events an ideal snack any time of the day.

To us, this is the quality that makes the small flaky pizza a true Sardinian institution: its ubiquitousness throughout the day. We don't eat it to fill your belly but to fill in time. It's one of those innocuous resources to be used to fill up the dead time between one event and another, moments without name and face which slip by without ever returning, either in memory or in dream. But it is to this very unending monotonous procession of grey instants that we owe the bitter lesson that life passes, and does not ever stand still. So, seen from this standpoint, a pizza sfoglia can, if nothing else, give taste and flavour to the fleeting grey moment, colour the dull horizon which shows no sails in sight. How not to be tenderly grateful?

So don't be amazed if the thought of this simple form of nourishment is able to cause true pangs of nostalgia in those Sardinians who find themselves, for whatever reason, far from home. The dream that a pink flamingo, passing in flight over the mainland, might drop from its curved beak a pizzetta on the threshold of their mainland home is perhaps what is the most exquisitely Sardinian thought that the denizens of this island can conceive in the early morning, as they cower like trembling shadows in the mists of Turin's Po river.