Trolley
Punta Giglio and flowers in the gun barrels
"Like a lily among the thorns, so is my darling among the maidens".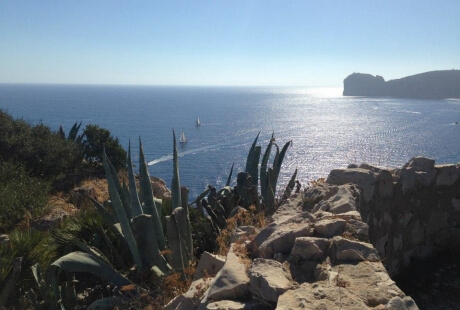 At Alghero, you will find many lilies, although not among the thorns, but rather among the limestone, that of Punta Giglio, so named for the abundant growth of these flowers, the symbol of candour, chastity and purity, but also of submission to love.
Unfortunately, there was a time when the men who frequented Punta Giglio were in no way inspired by these delicate bucolic symbols. This was the time in which the whole world forgot the lilies and became the exact opposite. We're talking about World War 2, when Punta Giglio was transformed into to an anti-aircraft battery for use by the Axis Powers, due to its strategic position on the southern border of the bay of Porto Conte, framed to the north by Capo Caccia.
It would seem that Hitler was convinced that the Allied Forces would attempt to take possession of Sardinia, seeing it as a bridgehead for the mainland and at all events as an important crossroads for the control of the Mediterranean sea traffic. The Allies, on their part, attempted to encourage this assumption so that the Führer would concentrate men and equipment in Sardinia. And in fact he did so, moving them from Sicily, where the Allied invasion actually took place. Hitler… that stupid old criminal!
At all events, on the promontory of Punta Giglio a large barracks was built, using the local limestone to make it blend in with the landscape. Round the main building, a maze of other structures and passages: shelters, arms and munitions stores, anti-aircraft batteries and casemates, often linked by underground caves and galleries due to the karst nature of the terrain. A highly efficient feat of military engineering which, however, was of no use to the soldiers other than to pass time idly, waiting for an event which never took place.
This monument to boredom rather than to military glory is still there, a warning to future generations so that they may find reasons for leaning closer to the lilies, and now it may be visited in trekking excursions which will show above all how nature manages over time to reabsorb the corrupt aspirations of man and blend them into a backdrop of universal beauty which transcends and ridicules them.
Fortunately since they was built to remain hidden from the enemy, these military constructions were never an eyesore: they remind us of ghosts, forever unable to assuage their thirst for blood, which little by little have shrivelled, turning to stone in their slumber.
Now low bushes, grass, flowers and brush with the scents of the Mediterranean maquis watch over this almost forgotten past, while some slow flying gryphon occasionally perches on the barracks walls and, like a lesser god, surveys with distain the 'human comedy'. He perches for a while and then spreads his immense wings and takes flight, high into the sky, a demon thirsting for the heavens.