Trolley
Saffron in the cannons
At Alghero, if you mention "red gold", many will think you're referring to coral.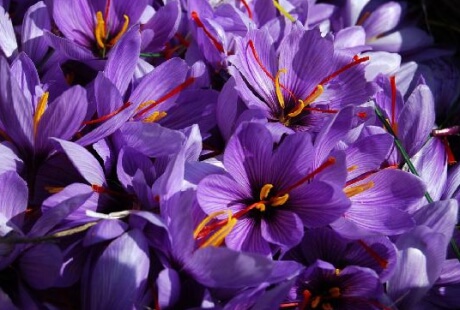 But that isn't the only red gold to be found in Sardinia – there's another – saffron. No hyperbole intended since just one gram of this precious spice can cost 8-10 euro on the local market and 15 euro, with peaks of 25, in the rest of Italy.
The area in which most of it is produced is the Mid-Campidano plain, with San Gavino Monreale as peak producer followed by Turri and Villanovafranca. However, there are several producers at Alghero too, and its home production is widespread as an ingredient in several delicious recipes. Indeed, we Sardinians use saffron a lot, for instance to flavour malloreddus (small gnocchi) Campidanese-style, the zeppole (fried dough at Carnival time), and coriccheddos (heart-shaped sweet pastries) etc.
Anti-inflammatory, anti-depressant, anti-oxidant, anti-stress, helps digestion, removes toxins –yes, and aphrodisiac too; all these excellent qualities are more than enough to justify its high price. Naturally, that's not the only reason – above all, it's the result of the difficulties of cultivating it and its relatively low yield – just think that one hectare of saffron crocus grown yields, when things go well, just 5 kg of spice. The harvesting of the stigmas (the three characteristic red filaments sprouting from its splendid flower) is always and only done by hand and then comes a patient job of drying.
Not a high-yield economy? A relic of an ancient world which had much slower rhythms and lifestyle than ours, marked by frenzy and fleetingness? It may well be, but when in recent years major industries and other production sectors of the island's economy went downhill, saffron production by contrast not only resisted well, it even increased. So, to conclude, we would like to give you some advice, again not new but always sound: put flowers in your cannons – even better if they are saffron flowers!