Trolley
"Seadas", our nourishment
"Cebar", in Spanish means: "to nourish" and "cebada", its past participle, means "nourished.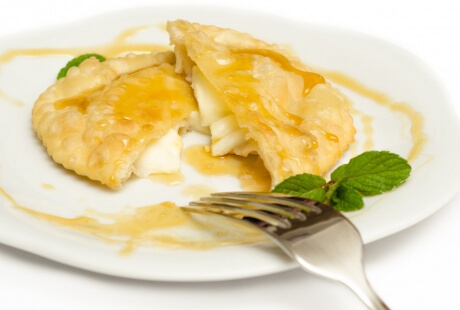 The term "seada" is thought to come from this Spanish past participle. Now let's get down to what a seada actually is. Think of a large "raviolo" consisting of an envelope of Sardinian semolina dough with a filling of fresh ewe's milk cheese, deep-fried in oil and served with a dusting of powdered sugar or melted honey.

This rich dish will in turn enrich us. It both nourishes and delights. It makes us grow healthy and strong, and enables us to nourish our reality, making it stronger, more suitable to embrace the ideas with which we fill it, just like the filling of a hand-made seada. Even Cato the Elder mentioned of a dish similar to the seadas and significantly called it "placenta". And that is exactly what seadas are – a covering embracing and nourishing the promise of a world that is finally soft.

In truth, the recipe varies considerably according to where it's made. And to be quite frank, if something is to truly represent a territory, it must be as varied and multiple-choice as the territory it represents. So you might well hear it named: "seatta", "sevada", "sabada" or "casgiulata". As filling, in place of the widely used ewe's milk cheese you might well find cow's milk cheese left to become slightly acid for a few days. You might even come across the salty version. And finally, you might have the good fortune to taste the so-called "seada a sa mandrona", or "lazy" version, because it's made with raw and not cooked cheese.

The seada is widespread throughout Sardinia (and is also well known off island) but if you want to savour the delicious artisan versions, we suggest you take a trip through those areas in which sheep rearing is still the staple of the economy. For this is a dish mainly linked to that world: a harsh, cranky world, where honey is used to sweeten hardships and which guards jealously the softness of its interior, as a protection against the slings and arrows of reality.