Trolley
Sunset over the Coral Riviera
Just for a moment, we invite you to take another look at the title of this post. Don't you feel that it's a cluster of inherently poetic words?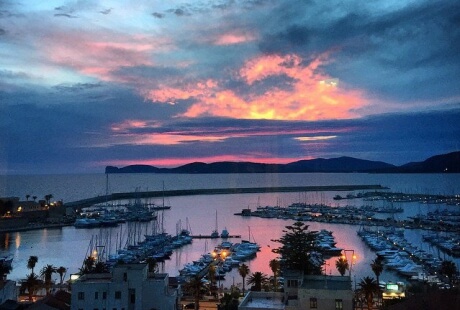 It certainly won't be easy to add poetry to poetry, but we'll take a shot at it, because the sunset over Alghero invites us to take part in a challenging contest. The sunset dares us to describe it, to use all our verbal skills to translate what we see into words, so that our description matches its beauty.

Every evening there are people admiring the sunset from the Blau Bar. If you don't know it yet, Blau is our skybar, a terrace with a panoramic view set on the ninth floor overlooking the whole bay and Alghero's historic centre. Just to give you an idea, from the Blau you can see what you could see if you were a falcon or some other raptor used to breath-taking diving flight. Well, every time we note that our guests feel the urgent need to make some sort of comment on the sublime phenomenon which delights their senses. They feel that if only they could find the right words to describe it, they would be able to find them for anything else too; they could say anything and everything. But – it never fails – just as they open their mouths, inspiration fades, crumbles and the best they can do is mumble a few words, glance furtively at one another disappointed by their own failure, and eventually fall back on an unsatisfying cliché "How lovely!" Hence one of the first characteristics of an Alghero sunset: it shows that words are not enough and that language has very precise limits: while it is certainly useful to describe human things, it cannot do justice to things divine.

Let us know consider the second characteristic: on account of its geographical position, Alghero is the last place in Italy where the sun sets. Certainly, this fact is in itself inspiring, and lends itself to various poetic thoughts, but let's concentrate for a minute on its practical aspects. If you are happy, come to Alghero and your happiness will be automatically prolonged. If you feel that life is too short, come to Alghero and seize some precious moments from oblivion. And if you are afraid of the dark, again come to Alghero and you will be able to postpone the fearful appointment with the shadows. So, you will reap great benefits from the sunset over the Riviera del Corallo. That is, from that very special moment when, here, coral also blooms in the sky.