Trolley
The Archipelago of La Maddalena: a Gigantomachy
Take some of the weathered granite of nearby Gallura, and a sea level rise after the glacial era, and there you have it – an archipelago of islands and islets amongst the most beautiful in the world, La Maddalena, on the north-eastern tip of Sardinia.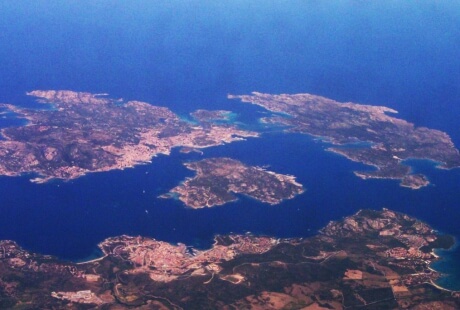 We're talking almost as if we were giant gods, able to play with worlds as if they were marbles. Let's continue with this make-believe and with huge strides jump from one island of the archipelago to the other, to enjoy the sight of these miniatures worthy of the goldsmith's art, these splinters of rock next to the Costa Smeralda, when some corner of paradise must have exploded into a thousand pieces and turned the world into a place of far more discontinuous beauty than it was before.

It would be as well to begin our game of hopscotch from the largest island in the archipelago, which gives its name to all the rest: La Maddalena. So large that it has a town with bars, shops and restaurants: La Maddalena is the ideal island for those wishing to dilute the sublime works of nature with a range of human pastimes and enjoyments. Amusingly, the island's beautiful coves and inlets have some very eccentric names: for example Cala d'inferno (hell's cove), L'uomo morto (the dead man), Lo strangolato (the strangled man), Testa del polpo (octopus head), Carlotto, Cardellino (goldfinch) etc.

Without needing to use the bridge linking La Maddalena to Caprera, our giant size enables us with just one stride to leap on to the latter. And from our cyclopean height, we can't believe our eyes: a stretch of charming small bays. The most famous: Cala Coticcio, known as Tahiti, and Cala Garibaldi, where the Hero of Two Worlds (who lived here in exile for 20 years) used to moor his boats; with his inseparable small Tuscan cigarillo clenched between his teeth, he would gaze at the stunning landscape, possibly finding it both confusing and inspiring.

Another jump and we reach Budelli, where just one person lives: the caretaker (be careful not to trample him!) And just what is Budelli's caretaker looking after? If we were in his shoes first of all we would feel ourselves responsible for the unforgettable pink colour of the island's beach, coming from the minute grains of the microorganism Miniacina miniacea.

Then a quick visit to Spargi and let's think how large the rocks surrounding its Cala Canniccio will seem after we shrink back to our human size. For now, let's enjoy the feeling of having discovered some beautifully shaped pebbles.

Better skip the island of Santa Maria: it's so small that in our present size we'd find it difficult to stand up. A narrow channel, not more than one metre deep, called Passo degli Asinelli (donkey pass) separates it from Razzoli: just a few beaches, but stunningly beautiful: Cala Lunga, Cala Cappello and Cala Noce. All set in lush Mediterranean brush, all facing a crystal-clear sea, all with fine white sand.

But after returning to our human size, sighing with nostalgia for paradise lost, how can we get back to the archipelago? Those lucky enough to own a boat can use it to get there (but check out the rules first, the whole archipelago is a Park and we can't just do as we please.) For more ordinary folks, a small ferry boat leaves from Palau, on the Costa Smeralda, and reaches the island of La Maddalena. So let's just do it! We, small fragile creatures, shall do what it takes to savour such beauty scattered in fragments over the sea.