Trolley
The Basilica of Saccargia and the dance of the absolute
In the emptiness there is God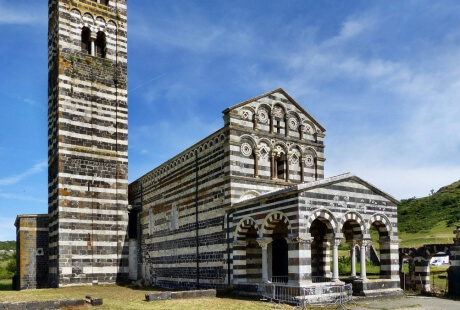 Far from all political strife, from all human dealings, from every rational reduction, rises the striped mass of the Basilica of the Holy Trinity of Saccargia and the first thing I ask of you as you approach and spy its high bell tower, is to refrain from speaking, from seeking adjectives; leave language at the entrance, as a minimum act of submission to the sacred.

In the Municipality of Codrongianos, in the Province of Sassari, isolated in a fertile valley completely surrounded by a volcanic tableland, the Basilica of Saccargia is one of the most striking examples of Romanesque architecture in Sardinia. The distinctive striped design of its external walls clearly shows that it was the master masons of Pisa who worked there between 1118 and 1120, while the frescos in the interior, amongst the few of this period well preserved on our island, are of the Umbrian-Roman school. The good condition of preservation which marks this building is in strident contrast with the nearby ruins of the great convent of the Camaldolese monks to which it was annexed: as if the destruction worked by time on material things was in this place highly selective, as if the convent was destroyed to save the church, thus guaranteeing its perfect isolation, an ideal distance from all things human.
On the origin of the name "Saccargia" there are several theories; the most appealing links it to the expression "sa baccarza" (cow with a piebald coat). Legend has it that every day a mottled cow would come from a far off pasture purposely to offer its milk to the monks. The animal usually knelt down, as if it were praying, right on the spot where the basilica would later be built. This story, or simply the fact that the valley was used for pasturing herds, is perhaps remembered by the cow sculpted on a pillar of the portico fronting the façade.

In our part of the world, at this time of year, the light of the day seems to spread like molten gold. The Basilica of Saccargia, rising on these golden waves which beat the air on the highest crests of the highest vision, will both empty and fill you, allowing you to perceive factually what the theologians, on the subject of the Trinity to which the Basilicata is dedicated, meant by the word "Perichoresis", or the dance of love by which the three divine Persons move dynamically one within the other, so that they all contain each other.