Trolley
The Capo Caccia Lighthouse and the imaginary watchmen
186 metres above sea level: this is the maximum altitude of the Cape Caccia lighthouse, the tallest lighthouse in Italy.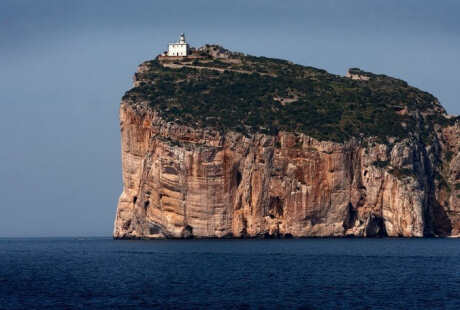 A square, solidly-built construction dating back to 1864, a lightning-proof Faraday cage, a storm-proof stone carapace that stands vertigo-free on the very edge of the bluff. An ever-open eye that every five seconds sends out a flash visible 34 miles away: assisting navigation is a sleepless and stubborn job, needing to be continued even when there is no vessel in sight and the incessant signals are lost in the uninhabited nothingness of the night seas.
But that the lighthouse is always there, that it continues to function in good weather and bad, that it can never be switched off, is heartening because feeling protected and guided presupposes a kind of automatism, requires that someone else is thinking about us, like a presupposition that is taken for granted, that you don't have to constantly think back on. This is what we expect from a lighthouse keeper, this is what conditions his life and gives him his uniqueness, his imaginary sleepless solitude.
We use the term "imaginary" because in fact that may well not be the case. And in fact, the Cape Caccia lighthouse keeper, Genoese Luigi Critelli, lives in the lighthouse keeper's house together with his wife and children. He leads a normal family life, however difficult it may be to imagine peaceful domestic scenes perched on the edge of a cliff overlooking the sea, especially when the sea flares up and seems to want to shatter the very base of the earth.
Furthermore, his job is far more eventful and much less solitary than you may imagine. He most certainly doesn't sit alone in the tower tending to the light (that nowadays is aided by sophisticated technology anyway). Luigi has two colleagues who work with him and their task is to keep the Cape Caccia lighthouse working efficiently, as well as all the other coastal signals as far as Bosa Marina and Porto Conte.
And yet, although the facts we have just mentioned would appear to belie the fanciful imagery of the lighthouse keeper, it is in our nature not to resign ourselves easily to giving in to cold hard facts that, as facts, are only circumstances, accidents, superficial disturbances of a mass in its immobile unvarying depths. Therefore, the idea of the Promethean watchman keeping ships far from the rocks remains intact, the idea of the man who is there, who is there anyway, who is there even if his presence does not depend on the fact that someone in this world is thinking that he is there.