Trolley
The dilemmas of Tharros
Today we're going to take a short trip, harbinger of many other immense journeys.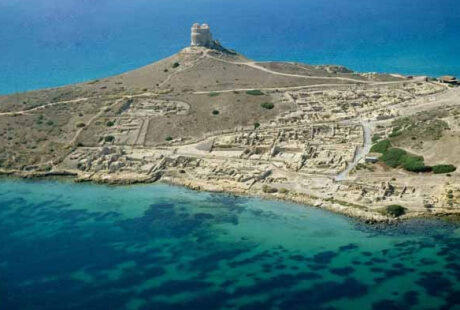 Today, we're going down south, towards Oristano. From there, on to Cabras, following the signs for San Giovanni di Sinis, where we will take the municipal road that will finally lead us to our destination - Tharros.

You will be driving on a sort of winding watershed between sea and time. A tongue of land, the Sinis peninsula, and, on its southernmost tip an archaeological site, Tharros. Here you will find the ruins of an ancient city of Phoenician-Punic origin, which later became Roman. Suddenly pulled away from our modern times, you will find yourself in the depths of another, remote time – you will wander through necropolises, tophet, Roman baths and roads arranged in the tongue of land between two shores fronting an incredible blue-green sea.

Visiting Tharros is a deep emotional and aesthetic experience, something like a solemn venerable mystery. In such a place you will have to make a radical choice as to the essence of your journey. You will either feel you have finally 'arrived', because you have reached the land's end and all arcane beauty is summarised in the remains of the settlement, or, on the contrary, you will feel you are at a starting point, imagining infinite routes and pathways, opening up to every possible adventure marked by the lines traceable on a map.

Fittingly for a settlement founded by the Phoenicians, a quintessential seafaring civilisation, Tharros is profoundly shaped by the two faces of any voyage – arrival and departure. How moving and majestic are those two columns which remain erect just a few feet from the sea! Marble question marks, inviting you to choose where you want to be – on this side or the other side?