Trolley
The legend of the maiden turned to stone
About 20 km north of Alghero there's a mystery: let's go and take a look.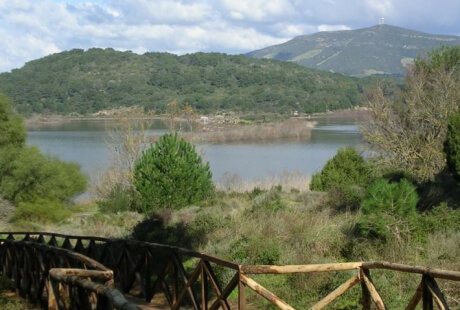 It's the Baratz Lake, the only natural lake in the whole of Sardinia. It's well worth seeing, surrounded as it is by a lush pine wood and sand dunes up to 5 m high, with greenery worthy of the best Italian poetry (dwarf palms, orchids, myrtle, broom), with splendid dragon flies flitting about (truly enchanting the species with fuchsia livery just like trendy Hollywood stars), the Baratz Lake is a splendid nature spot for lovers of walks, mountain-bike trips or picnics (there are no less than seven walking and cycling pathways).

So, fine scenery, but not just scenery – as we said at the beginning, there is also a mystery which enfolds the beauty of this place in an aura of trembling shadows, imbuing the place with mystery and expectation. And where can a mystery hide in a lake? Naturally under its waters – by definition mystery is submerged.

Now don't expect a mystery such as Nessie of Loch Ness, no, you'd just be disappointed. The most monstrous object that Baratz has every returned are bombs from WWII, dropped by the Germans in flight and then patiently defused by us. Rather, we're talking of stories and legends, such as that of the ancient city of Barax that the story goes is now submerged as the result of an earthquake, thus producing the present-day basin of the lake. In short, Barax would appear to be Sardinia's Atlantis.

But there is also another story involving the lake and it's the one we prefer, perhaps as a result of the vein of melancholy which pervades it or perhaps because it reminds us to a certain degree of the splendid Greek myth of Orpheus and Eurydice. At all events, here's the story: a long, long time ago, when the lake didn't even exist, a beautiful maiden was taking a solitary stroll amidst those uninhabited, wild and beautiful spaces. As every maiden in legends down through the ages, ours too was curious, incautious and careless: in other words she was in the wrong place at the wrong time.

And perhaps she began to realise this when suddenly she saw an old man, who had appeared from the blue. Poorly dressed, a leathery face, glassy eyes, the old man looked malevolently at our maiden, and pointing his stick at her, said brusquely: "Clear off! Go home and don't turn round for any reason, not even once! Woe to you if you do!"

Thoroughly frightened, the girl obeyed, she turned to make her way back home. But we already know that she was incautious and curious, and so what did she do – she turned to look back. And just who was the old man ? – A spirit of the wood, a demon – did he really exist or had she imagined him? To cut a long story short not to look back was almost as impossible as to stop breathing. And so after a few steps, that's exactly what she did.

She looked back and she was surprised to find no trace of the old man. But perhaps his disappearance was the least disconcerting thing, since as soon as she turned round, the maiden's body began to turn into stone and at the same time, the place began to fill with water. The water spread everywhere until it submerged everything. And that's how today's lake came about, while the body of our maiden – completely turned into stone – remained in its depths, submerged forever in the waters, with an expression of unbelieving terror on her face.