Trolley
The Nuragic complex of Palmavera
The main aim of this blog is to tell you about the many attractions of Alghero and its surroundings, which you can experience first-hand if you decide to spend some time with us.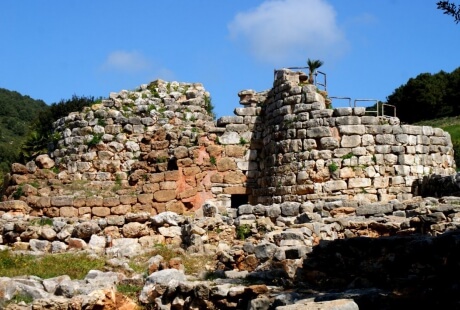 The list of attractions also includes of course the mystery of stone, its uncanny capacity to transmit human testimony, to maintain through time the memory of lives and peoples that have long vanished. Just drive for about 12 km from Alghero in the direction of Porto Conte and you will experience this sensation intensely at the Nuragic complex of Palmavera.
The ancient stone buildings known as "nuraghi" are a quintessential landmark in the landscape of Sardinia. Their original function remains a mystery to us – we cannot be sure whether they served as fortresses, temples, or astronomical towers. All we can see is just a great stone enigma, a presence which simultaneously hides and reveals, a monumental structure which poses questions, but also as it does so, speaks to us, holds a conversation with us in a language which has long since disappeared and can never be recovered in full. The nuraghe is a paradox of unmoving stone which evades our knowledge. But showing us the way to where? Certainly backwards in time, to the abyss of a prehistoric past which we can only piece together partly, from fragmented clues.
Something not partial and fragmentary, but rather full and continuous, is the sensation evoked by the Nuragic stones, which will certainly strike you if you visit Palmavera. This monument is a "complex nuraghe", with two main towers linked by curtain walls which close off courtyards and spaces with stone huts. The complex layout of this nuraghe makes us aware of the past lives which once animated it, of the people who pursued their daily activities here, who faced problems, searched for solutions and engaged in complex relationships with each other (consider for instance the function of what is known as the 'Meeting Hut'). The first nucleus of the nuraghe was built in the 15th century BC, and the complex was in use at least until the end of the 8th century BC, when the village was destroyed by a fire – a thought to make us dizzy, as if we were on the edge of a fall, not of water but of time.
So as you wander amidst the ruins of Palmavera, do so in silence, to hear the history from thousands of year ago which whispers to you from these eloquent Nuragic stones.