Trolley
The pink granite of Gallura and liberty
If anyone should tell you that Sardinia is a 'hard' land, don't misunderstand: probably they're not referring to quality of life, they don't mean to say it's as hard to live here as it would be in the dark alley in the underbelly of New York City.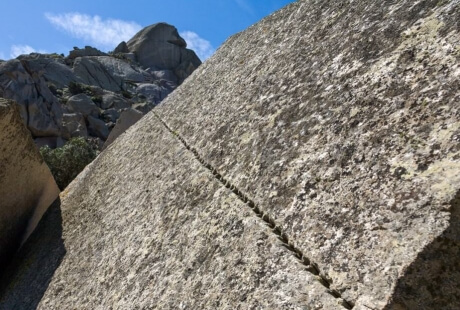 No, rather they're referring to the fact that than 92.5% of the total mass of granite present in Italy is right here on our island. Yes, that's right, Sardinia accounts for more than 90% of total national granite production. Ours is a 'hard' land in that sense: of having a lot of granite. You might also say that tripping up here more often than not means tripping over a granite pebble and falling on to a granite surface. In short, stumbling and falling in Sardinia is certainly not a nice experience. But if you are able to keep your balance, you will enjoy a magnificent spectacle, something imposing, solemn and truly impressive. Indeed Sardinia's beauty is rock-solid and indestructible, the strongest base on which to construct a soul.

There are basically two types of granite in Sardinia: 'pink granite' also known as 'ghiandone', and 'pearly grey'. Pink granite is found in the Alta Gallura area (Tempio, Calangianus, Aggius and Luras), while pearl grey comes from the south of Gallura, especially Buddusò, where about 70% of national production is extracted. Pink granite is the hallmark of the Gallura countryside: you will find it along its rugged coastline, beaten by the Mistral wind and the crashing waves. Here granite is king and lets itself be gradually moulded by the force of Nature, taking on shapes which recall strange animals or geometric shapes. Cyclopean forms manufactured without the hand of man.

But the aesthetic value and excellent geological quality of this granite have also generated a flourishing quarrying and processing industry, which however in the last few decades has been hit by the strong competition of China. Just think that the base of the Statue of Liberty is made of grey-pink granite from La Maddalena. So our stone was considered the worthiest foundation for the symbol of the ideal that has always inspired the United States of America. Many of our fellow citizens reached the shores of America in search of a better life and were struck and moved by the sight of the Statue of Liberty with its great torch lifted on high to the sky: a promise of liberty, a decent life, prosperity and well-being. Had they brought their gaze slightly lower, their eyes would have met the splendid hardness of Sardinian granite and they would have begun to understand just how hard the road would be towards achievement of the American dream. So we can draw a useful lesson from this characteristic stone of ours: very often, beauty is not to be found pure and free in the sky, you need to dig for it, seize it from the harsh denseness of the earth.