Trolley
The Rock of the Elephant: story of a vision
Sardinia is a place where you can make with rocks what elsewhere you make with clouds: you can imagine shapes, find similarities, blend geology with biology.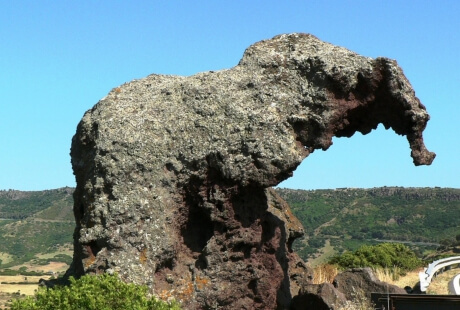 But while clouds are inherently changeable and mobile, rocks are the exact opposite, so when you come across a particular shape in a rock, there's a good chance that the image you see in it will petrify, remaining forever attached to the rock, like the most obstinate of lichens.
The famous Elephant Rock in the Municipality of Castelsardo is a living example of this phenomenon which above all is a mental one. Today it seems quite obvious that this huge mass some 4 m high represents a seated pachyderm with its trunk pointing towards the road. And yet for centuries, indeed right up to the 19th century, nobody had discovered this likeness. Even in official documents, it was quite simply named as "Sa Pedra Pertunta", that is the rock with a hole, with no mention of any resemblance whatsoever to an elephant.

Edoardo Benetti, a scholar from Lombardy who moved to Sardinia at the end of the 19th century was the first to be struck by the resemblance: "Travelling from Catelsardo along the Via Nazionale in the direction of Sedini, you will suddenly find a strange spectacle. A huge elephant, three times the height of the huge prehistoric mammoths – it seems to emerge from the jungle and make for the mountains". And at that point, everyone else looked at it with new eyes – yes, it really is an elephant! Edoardo is right! How strange we never noticed before!

It is by this process that inch by inch, we humanise nature. Actually, humans had already gained possession of this rock well before Benetti saw it as an elephant. Cut into the rock are two prehistoric chamber tombs, locally known as "Domus de Janas", that is "houses of the fairies". And in the interior of Sardinia you can still hear the expression: "Mi pàret un'òmine jànu", ("he seems to me a 'janu' man") to indicate a slightly built person, a sort of elf.

Elephants, fairies, elves: to paraphrase the splendid essay-guide on Prague by Ripellino, this blog post could be entitled "Magic Sardinia".