Trolley
The waterfall of Sa Giuntura, or Plato in the Supramonte
In the Supramonte (highlands) of Urzulei there's a waterfall – well, actually sometimes it's there and at others it isn't. It all depends.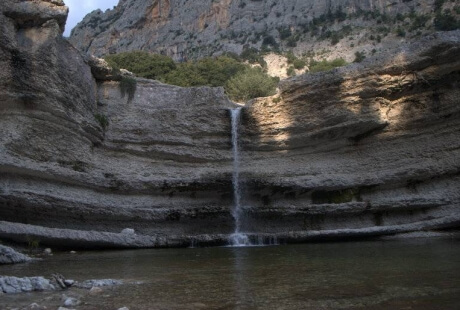 On what? On the rains. We're talking about the waterfall of Sa Giuntura, so called because it is located at the 'joint' or meeting point of Rio Flumineddu, Codula Orbisi and Rio Titione. When the rains swell these streams, the waters are channelled along what in the dry season appears as a dry stony riverbed, thus giving rise to a powerful waterfall which leaps down into the natural pool underneath.

This waterfall is certainly not as imposing as many others worldwide: its size is not the reason why nature walkers reach it through woods of holm oak, juniper and stony ground, along paths requiring experience and a good level of fitness to follow them safely. The beauty of this waterfall lies above all in the stunning scenery in which it is set, so that even when it's dry it's easy to imagine it impetuously leaping down from high up.

A striking element is the shape of the surrounding rocks, moulded over thousands of years by the force of the waters. Indeed the waters acted as sculptor and model at the same time: the rocks of Sa Giuntura resemble fossil waves, carved by the flowing energy that runs incessantly over them. So, looking at these rocks, we feel immersed in liquid scenery, where everything evokes water, waves and currents, vortexes and movement. Thus, deep down Sa Giuntura is the meeting point between being and becoming: the perfect place to understand Plato.