Trolley
All types of toast
(for Cap d'Any 2014-2015)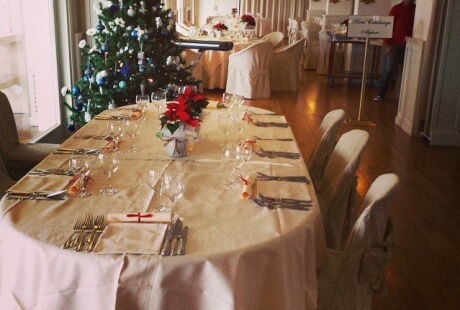 Alghero is in a fever of excitement: events, seasonal open air markets, concerts, lights, choppy sea. You will note a happy tension in the air – as always when the old year gives way to the new. The precise moment when that happens is marked by its own special sound – which one? It is a short, clear, merry, lucid, vibrant sound – the sound of two goblets clinked together.

We are hoteliers and we know all about these things: we have witnessed countless New Year toasts. Those of happy couples, followed by a passionate kiss. The smiling – slightly hesitating – toast between people who don't know each other. The toast of the family guy – already half drunk – who will start hugging anyone within reach. The confidential toast in which after the glasses have clinked, one person whispers something into the ear of the other, as if the New Year were their very own secret. Then there is that from afar, in which glasses are raised on high as if trophies and it's not quite clear who the actual recipient is and so on the other side, at least four persons respond. Then there's the one celebrated deep in your heart for absent friends, and that's like a brief pause in the festivities, a sweet melancholy which often is swept away by the hug of a tipsy family member.

And then there's the toast which usually no-one sees – that of the hotelier who fills the glasses. You never think of it, but it's there all the same. And so now let Catalunya raise a glass in a toast to each and every-one of you, our cherished guests. May the New Year bring happiness and prosperity and……above all may it be celebrated in Alghero!