Trolley
What can a Giara horse do for us?
Don't call it a pony: this rustic, untamed little animal might be offended.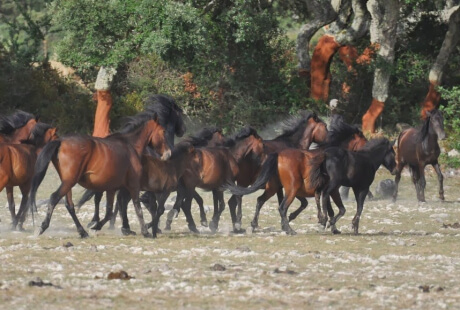 Rather it's a true horse, in all respects; yes, it's small, but it's still a horse. And since it lives only on the Giara tableland, whose habitat has offered it a safe haven, it's known everywhere as the "little horse of the Giara". Undisputed master of that huge stone raft where it roams undisturbed and isolated from the rest of the world, our small, wild equine rarity passes its days just as we would like to, defying wind and weather at the gallop, with its thick mane tossed by the breeze.

A very ancient endemic race, until about the 15th century this small horse could be found in all parts of the island. Gradually however its population shrank, and nowadays it consists of just about 100 horses on the Giara, the only ones which have not been cross-bred with other races, the only ones which have managed to preserve their true Sardinian roots. But even here at Alghero we can boast of the presence of the pure "akkètta" (as these horses are called in the Sardinian tongue), more precisely they live on Monte Arci in the nature reserve of Capo Caccia, where it's quite easy to see them.

And what should we do when we meet them? The Giara horses ask just one simple thing, to be respected, not bothered: they are convinced libertarians. So just limit yourselves to admiring them from afar, and in silence, and they will amaze you with their beauty: in the winter their coat is long and rough, and they seems archaic, savage; in the spring, you will be amazed by the sweetness of the new-born colts and the unforgettable spectacle of the females in heat and the furious stallions; in the summer, seeking the cool of the waters, they will appear indolent and playful.

At all events, when you are sinking deep in the morass of repetitive work, facing dozens of commitments, chaotic traffic and the infinite complications of this world which, alas, all too easily slips out of our control, just think that on a far-off rocky highland plain in the middle of Sardinia, there are small untamed creatures which moment by moment live also for us the intoxicating sensation of being prey only to the wind.