Trolley
Which is the best Faculty of Architecture in Italy? Why, Alghero
Whoever decides on university education in Sardinia has just two cities to choose from: Cagliari or Sassari.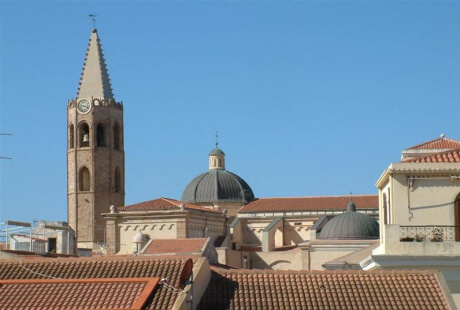 No, just a minute, actually there are three cities: Cagliari, Sassari and Alghero.
From 2002, indeed, in the historic centre of our city has been set up the Department of Architecture, Design and Urban Planning, that is the first Faculty of Architecture in Sardinia, a branch of the University of Sassari.
But this is not simply one of the decentralized academic institutions which in Italy allow students to run up against faculties and degree courses at almost all crossroads (just why has such extensive research not brought our country to the scientific forefront of the planet we won't go into here – it would be too boring and time-wasting). No, here we're speaking of a true project which is qualified as such starting from the title which the Department has chosen for itself: not just the usual reference to this or that architectural high-flyer or award winner indicating inspiration or reverence, nor the more balanced and neutral choice of the name of a locality.
Instead the Department is entitled "Architecture at Alghero", with pleasing frankness and unassuming nature.
And as to the fact that it is a truly serious centre of studies, don't just take our word for it, but rather the official rankings of Italian Universities by CENSIS, published on the daily "La Repubblica", which listed Alghero as the best Faculty of architecture in Italy for several years: precisely 2009, 2010, 2013, 2014 and 2015. Thus, students at Alghero can pride themselves on being part of the best academic centre in this field in the country. Let's try to understand this primacy, starting from Alghero itself naturally. Studying in such a crucible of art and nature is not only a source of inspiration, because inspiration is something you can count on only briefly and occasionally, but without doubt it stimulates constant and perfect concentration on one subject of enquiry: basically we believe that the beauty of Alghero cannot fail to pose to every would-be architect a pressing and embarrassing question, of the type: "Is there another way to design what you need to design?"
Alghero teaches us that beauty is demanding and uncontainable and that the human contributions to its growth are at least controversial.
Moreover, the centrality of the "design" distinguishes the training pathway of "Architecture at Alghero". It would seem to be obvious, but it's not, at least in the terms in which the question is posed and addressed in the Faculty we are speaking of, that is bearing in mind the practical and the theoretical-epistemological aspects of design. The theme of the project is indeed so central that the Faculty itself becomes in turn a project, de-institutionalizing itself to become open experience, ready to seize on stimulation of all types and from all places and mould them into teaching forms which are fluid and participatory, such as workshops (there are no less than 12 active ones).
So, we can well claim that Alghero is a house in which houses are conceived, it is a house for houses, and it hosts that which hosts.