Trolley
A break for poetry
Light-heartedness, amusement, leisure time, freedom from worries: is this what summer by the sea really is?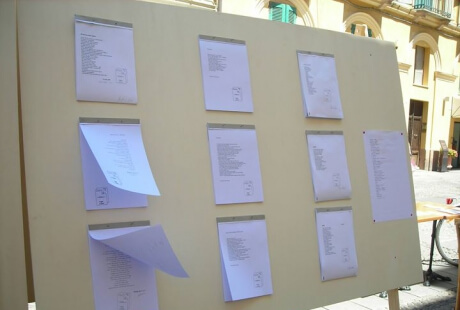 Yes, let's say it loud and clear, it is a little of this, fine, no harm in allowing ourselves from time to time a small dose of superficiality, abandoning ourselves to surface things is just a way of not transforming ourselves into those monstrous creatures of the abyss, who in order to live solitary in the depths have developed a horrible deformed aspect.

Right, but there are many ways of amusing ourselves – for example last Saturday and Sunday our fine Piazza Civica hosted the eighth edition of "Poesia a strappo" (takeaway poetry) and just think, the audience – despite the fact the event had to do with "poetry", actually had fun! And what made this mysterious phenomenon possible?

This was made possible by the fact that "takeaway poetry" is not a high-brow and deadly serious cultural event – poems were hung on panels in the square for anyone to read them and, if they wished, to tear them out and take them home. Thus poetry has been freed from the ivory tower of culture and has been returned to the immediate needs of casual passers-by.

In conclusion, "Poesia a strappo" has exactly the same refreshing levity as the wind which on Saturday and Sunday last in Piazza Civica fluttered the pages as if they were so many white flags, a sign that we really don't want to fight any more: much better to read, think, and try to be together. "Poesia a strappo" joins the intellectual benefits universally known to come from poetry with the subtle and vaguely perverse pleasure of appropriation. After all, the seizing of poems embodies the most literary and exciting of legal rules – what the Roman jurists called "thesauri inventio", that is the appropriation of a discovered treasure.