Trolley
A "ligazzio rubio": Antonio Marras native of Alghero
At Alghero, on a hill from which our gaze wanders over the endless depths of our sea, in a great workshop-house, someone lives who does not let a day pass without creating something.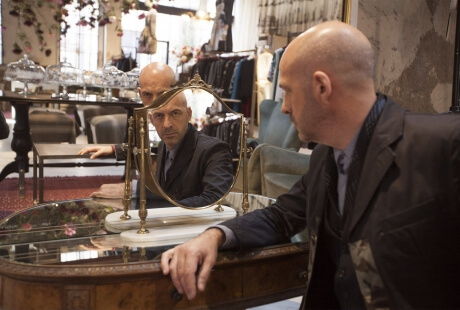 Don't you find that consoling? The idea, we mean, that in one precise spot in the place where you live, with certainty someone is creating something of quality, which will add new beauty and new possibilities to what already exists? We certainly do, above all when we think that on the other hand there are so many people intent on destroying, ruining, uglifying and impoverishing existence.

Having said this, who lives in the great house-workshop on the hill? Our famous fellow citizen, Antonio Marras. The fact that Marras, a fashion designer of international repute, is a son of our land is not just a biographical detail. Born in Alghero, he has always returned to Alghero, even when his work took him to the major world capitals (from 2003 to 2011, just to cite one of many possible examples, he was creative director at the French fashion house Kenzo). Most importantly, Alghero and Sardinia (and in general the concept of 'island') have always been a source of inspiration for him.

What do we mean by a 'source of inspiration'? We believe that in the case of Marras, Sardinia is a type of fundamental syntax, that is that the island is reflected in the very way this designer articulates and structures the links between materials, colours and shapes in his creations. It's true that in his pieces we find formal elements inspired by Sardinian tradition: just think of the "ligazzio rubio", the red ribbon which has become a signature element of his designs. Of course, Marras is too smart and too immersed in contemporary visual art to fall into the trap of folklore. So he revisits his 'island roots' by extracting certain elements (such as fringed gauze), applying radical treatments to fabrics (such as burn marks), or combining contrasting elements. These stylishly disconnected elements, similar to islands dotted around a continent like fragments or splinters, mark out Marras as radically Sardinian and a son of Alghero: the man who lives in the great house-workshop on the hill, overlooking the sea.