Trolley
A secluded place: the waterfall of Triulintas
Do you feel like a short trip today?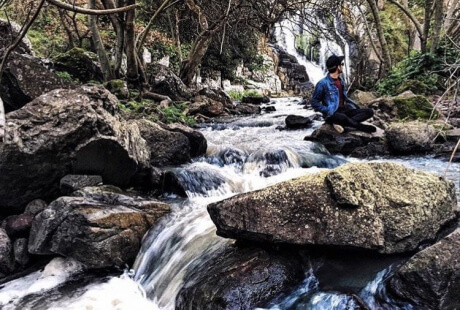 We'd like to take you somewhere not too far from Alghero: head to Sassari, then take SS 131, in the direction of Cagliari, for about 13 km. At the turnoff for Ploaghe take SS 597 and go on in the direction of Ploaghe and Chiaramonti. Then make for the village of Martis, where you will leave your car and start walking for about an hour, making for the waterfall of Triulintas.
We said it's not too far from Alghero. Yet at the same time, it's a far-off place of itself. The waterfall of Triulintas is one of those places which remain far off, even when you are right in the middle of them. Visiting it means experimenting distance, remoteness, out-of-the-wayness, hiddenness, it means realizing in depth that things exist very well even without our specific intellectual contribution.
So much so that at Triulintas man has even worked: the waterfall at one time powered a mill of which we can still see the ruins. But when the mill was abandoned, the waterfall didn't even blink and continued dashing water down from a height of some 15 m, as it had been doing for hundreds and hundreds of years. Nothing that man can do or say can scratch the magnificent impenetrable surface of places such as these, which exist slightly out of our time and hence out of our history.
Here, work is left entirely to nature, to the vivid chromatic contrast between the red of the trachyte rocks and the green of the vegetation which even climbs up the walls falling sheer into the narrow canyon of Badde Traes excavated by the Rio Masino. And it is at the confluence between this watercourse and Rio Pontisella that the waterfall of Triulintas is formed. Water grasses and plants, elms and weeping willows frame the small lake formed by the falls, a stretch of calm water formed from the noisy chaos of the fall itself. When finally you are able to enjoy this spectacle, for a moment you may even experience a slight shiver, the impression of never having travelled so far away from all the hassles and worries humanity plagues us with.