Trolley
Alghero and Hollywood
Summer 1967, Hollywood… No, actually Alghero. Because in the summer of 1967 Hollywood was relocated here, to our town.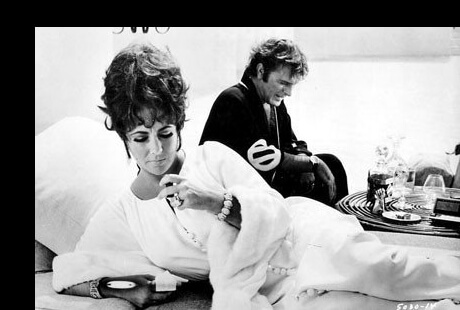 Not all of Hollywood, of course. But Liz Taylor and Richard Burton moved here, two quintessential stars of the cinema and show business. Indeed, performance is everything in life. But if director Joseph Losey decided to shoot the film "Boom!" in Alghero, it was actually to avoid excessive show business, to provide the much talked-about actors with a more discreet environment, far removed from the high society and gossip that they would have found on the island of Capri where the great American playwright Tennessee Williams, also the film's screenwriter, had originally planned on setting it.
Let's be honest: the film didn't garner much success at the box office. After all, not even Williams' comedy, upon which the film was based, was ever a full-house hit. Poor Tennessee had already run his course by then: his revolutionary role had been extinguished or, better put, had been normalised or interiorised by that same bourgeoisie social bloc that he had originally made feel ill-at-ease with his alarming, creeping, psychotic and erotic tensions. Other revolutionaries were about to be discovered and Williams was, by this time, on the wrong side of the fence.
But 48 years later, what does a commercial flop really matter anymore? The worst moment when losing money is the moment itself when the money is lost; after a while, you don't think about it anymore and are just left with the memories of an adventure that replaces it. Memories, after all, are not always bad.
Like in this case. Because, after all, here in Alghero, Liz and Richard rediscovered a love lost after the end of their first stormy marriage. Because our late light heavyweight Mario Altana, the "Sardinian Carnera", earned 100,000 Lira a second as Barton's body double in a scene in which his character had to walk along a railing overlooking the sea. Because Barton himself, in that period heavily dedicated to alcohol, bought all the drinks in the dive on via Columbano, known as the "gas chamber", and for this reason was the best drinking companion imaginable. Because Losey, the director, intoxicated by the power of the waves during a Mistral storm, decided to entitle the film "Boom!" like the sound of the waves breaking on the walls of Cape Caccia, saving foreign film distributors from all sorts of translation issues.
For the shooting of the film, a real house was built on the spectacular terrace of Cala della Barca bay in the Porto Conte park, a fairy-tale villa, worthy of the capricious millionaire "Sissy" Goforth/Liz Taylor. Of course, after shooting ended, the building was demolished. And yet it would appear that if you look carefully among the rocks and bushes, you can still find fragments of tiles and plaster from that fleeting dwelling, fleeting like success, fame, talent, youth, love and so on. So this, then, is what remains from this whole performance that, in principle, we called life: just Stardust.