Trolley
Alghero Extra Virgin
The event "Olio Capitale", the 10th show of typical and quality Extra-Virgin Olive Oils, was held at the Trieste Maritime Station this month.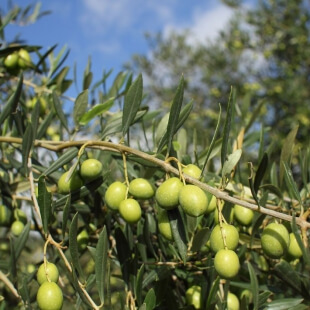 And guess which cities represented Sardinia at this, the most important of the trade fairs dedicated to extra-virgin olive oil? Oliena (nomen omen – the name says it all!) and Alghero, as testimony to the great prestige and quality achieved on our island in the ancient tradition of olive oil production.
To tell the truth, Alghero and Oliena have for some time now created a sort of synergy with their Olive oil trail, which the town of Orgosolo has also joined. Thus, Alghero, Oliena and Orgosolo have formed a trail joining sea and mountain, the charming coast round Sassari with the mountainous hinterland of the Barbagia district. Travelling along this trail, you will be able not only to discover some of the best olive oils produced in Sardinia, but also to cross through some of the most beautiful landscapes, seeing them change and merge one with the other. This journey captures the true essence of the island, which lies in its unique balance between land and sea, countryside and coast.
And the countryside round Alghero is dotted with olive groves. From the hills of the hinterland and almost as far as the sea, the olive tree is a fixture of the landscape. The most widespread cultivar in this area is Bosana, a typically Sardinian variety. It yields an oil of excellent organoleptic qualities, with a colour in the range from deep green to yellow, with a fruity scent, traces of bitterness and sharpness to the palate.
In these colours, in these scents and flavours all Alghero is represented, and you can well appreciate that olive oil is the product not only of the various olive oil companies (and there are some really exceptional ones), but also and above all of a whole world.