Trolley
Alghero navel of the world
Winter calendar of flights 2014-2015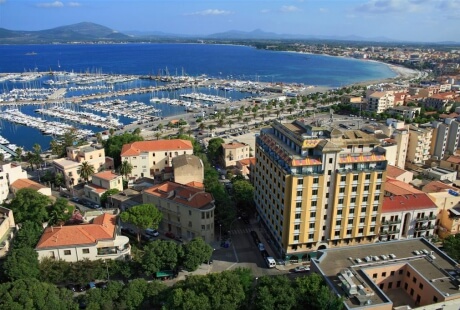 Etymologically, the word 'isolated' is linked to 'island', a place surrounded on all sides by the sea, hence difficult to reach and equally difficult to leave. For ancient peoples, the sea was the symbol of travel, hence of distance to be crossed with effort and danger. However, according to this definition, Alghero is certainly not an isolated place – Why? – Because between you and the city no longer stands the sea, but the sky, and the sky is full of routes linking Alghero easily and rapidly with no less than 14 cities, both Italian and non-Italian.

Just take a quick glance at the winter calendar for 2014-2015 of Alghero Airport; flights to and from: Bologna, Bergamo, Cuneo, Pisa, Ciampino, Venice-Treviso, London-Stansted, Eindhoven, Bratislava, Girona-Barcelona, Madrid with Ryanair; Bucharest with WizzAir; Milan-Linate and Rome-Fiumicino with Alitalia.

And what does all this mean? Above all that Alghero is easily reachable from most parts of the world (and remember that in the summer, routes increase up to 35). This makes our city a stimulating meeting place for people hailing from many different countries, one other plus to make your stay on the Riviera del Corallo new and exciting.

But it also means that Alghero is a departure point, a place from which to start, or think of starting, your adventure, with trips which are more complicated and far-reaching. Use it if you like as a sort of base camp from which to make short or long forays to Barcelona or Madrid, just to give one example, counting on low-cost flights. When you leave it's not enough to just wish for your destination, but you also need to see if you'll have reason to come back. And you can be sure that if coming back means coming back to Alghero, you will never be short of reasons.