Trolley
Alghero's towers and bastions, in other words the meaning of the verb "to open up"
Once upon a time Alghero was a defensive city, today it is a protective city.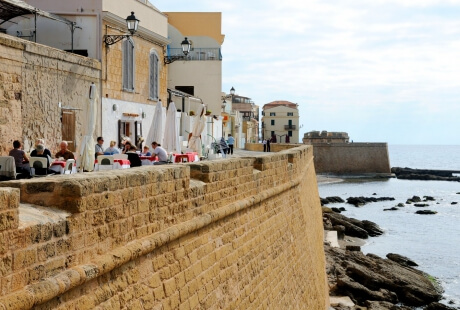 Once upon a time it was planned to keep people out, today it does everything it can to ensure that people feel at home, wrapping them up tightly in its own beauty. Once upon a time the towers and bastions served to ward off assaults, plundering and ruin, today they are a belt of revered stone upon which the sea beats its own sublimity, making it available to the gaze of anyone and everyone.

The passing time transforms the meaning of our works, freeing them from the function for which they were designed. And so Alghero's bastions rest from their ancient tasks, liberated from their original mission. They no longer keep guard over a constantly endangered possession; rather they devote themselves to artistically drawing the perimeter of our town, they bask in the sun with the cats, they enjoy the sacred peace of the sunset with a bicycle resting on them and two youngers sitting astride them hand in hand.

They have a long history behind them: the first ramparts were built around 1150. They were then continually extended, to defend and separate the inner from the outer. But with the Royal Decree of 25 April 1867, Alghero was finally erased from the group of strategically important defensive cities: it was a great relief. The inner no longer had to remain inside and the outer no longer outside. The inner could go out and the outer come in, with the inner becoming something like "home" and the outer "the world". It was a world to go out and see and a home to return to.

Alghero's towers and bastions are no longer walls; they are doors. Doors that are always open to everyone.