Trolley
Christmas 2015 at Alghero: a psychological test
Think of the quantity and quality of events available for Christmas 2015 in Alghero – spanning the whole gamut of cultural backgrounds, feelings, values, desires, artistic tastes and worldviews.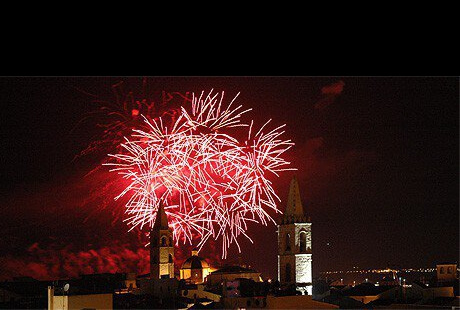 To help you find your best fit, we have come up with some psychology-test questions. So let's start.
Are you irresistibly attracted by the magic atmosphere of ancient ruins dating back thousands of years yet also tantalized by aperitifs with finger food? No problem – At the Villaggio Nuragico Palmavera you will find the event entitled "A stroll through prehistory: Nuragic aperitif and archaeological site visit" organised by Coop. SILT, with several dates available before and after the New Year.
Christmas wouldn't be Christmas without music, and Alghero is ever true to tradition: the whole city echoes with music in the streets, church concerts and Christmas carols.
Would Christmas be dull for you without the sights and sounds of the Christmas markets? No worries: you'll find plenty of colour and exquisite objects in Alghero. No lack of markets, all fascinating, such as the artisan "AlberArtico" (8, 9 and 10 December) or the one organized by the Municipality of Oliena, the "Cortes Oliena", with hand-crafted objects and food and wine specialities from the Barbagia area (11, 12 and 13 December).
If your Christmas lacks a good vintage wine to sip, does this put you in Hamlet's mood, with dark unhappy thoughts? Come and spend Christmas with us and it will never happen. Take part in "Birralguer", the winter edition of the Artisan Beer Fest (28, 29 and 30 December), or in the wine tasting in Piazza Lo Quarter on 19 December, organized in collaboration with the excellent Wineries in our territory.
And what if – instead – you don't really care about Christmas? Even if that's the case, you're sure to like Alghero – come and admire its beauty in December, regardless of the calendar of festivities.