Trolley
Chronicle of a victory: Fabio Aru at the Planche des Belles Filles
A man weighs approximately 59 kg and when he's on the saddle of a bike, during the hill-climbing sections of the race he produces a mean cycling power of 460 watt.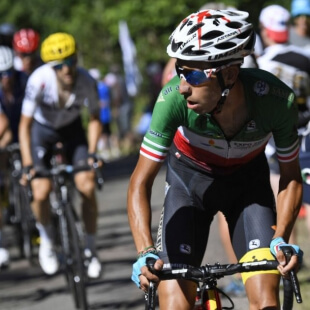 And here's the question: could that man win the Tour de France? For a start, we know that yesterday he won the Planche des Belles Filles, that is the first uphill stage of the 2017 Tour, and that he is currently third in the list, just 14" behind number one. We also know that his name is Fabio Aru, that he is Italy's cycling champion and that he was born in 1990 in San Gavino Monreale, a small town of 8,747 inhabitants, in the province of Southern Sardinia. Figures aside, let's ideally uncork a magnum champagne bottle to spray over the exulting crowd wrapped in Sardinia's Four Moors flag celebrating Aru's feat.

To give you an idea of our level of participation as all over Sardinia we followed his effort glued to the TV screen, imagine that while Fabio was engaging the 20% slope on the last 500 m of the stage, the whole of Sardinia was also taking the same 20% incline: our land was wobbling wildly in the midst of the Mediterranean. We felt his effort in our own muscles and sinews and we wished we could transmit some of our energy to Fabio, without realizing that it was rather Fabio who was instilling us with his energy, as he thrilled us to the marrow of our bones. Finally, his shout of joy as he crossed the finish line, a shout that joined with ours, and an explosion of joy brought Sardinia back to its proper position in the sea, while understandably, the level of pride of its inhabitants reached the stars.

Indeed, even from the heights of our Blau Bar the smiles and pride of our fellow islanders seem nearer and larger than usual today.