Trolley
Dinamo Sassari: #GigantiAlCubo - Basketball supergiants
Dinamo Sassari… we're still thinking it over but talking about sport is always dangerous: the losers, the fans of another team might not take it well.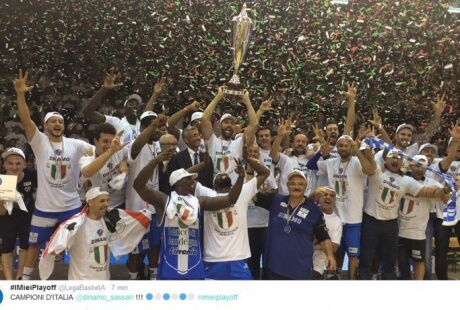 So let's see: what emotion should we be most careful to hide in this post on the relentless Dinamo Sassari, winners of the Supercoppa Italiana, the Coppa Italia and the Scudetto in the 2014-2015 season? Pride? Exaltation? Unrestrained joy? It's difficult to uphold the calm and balanced tone that defines our blog faced with the sporting feats of Dinamo Sassari, it's difficult to resist the temptation to head back down to Piazza d'Italia in Sassari and celebrate our #GigantiAlCubo along with 10,000 other people like we did on the 27 June, the day after the Scudetto.
The point is that everyone likes to win, but for us Sardinians, particularly for those from the province of Sassari, winning the three major Italian basketball titles in the same season sounds like something slightly different, and we think that this something is mainly due to our islandness, to us being physically separated from the rest of Italy and the continent. For us, these victories are not just proof of strength, a statement to everyone else, but above all are a kind of recognition of belonging: we are the best in Italy, it's true, we shouted it out to the point of losing our voices, but by saying it we feel perhaps to a greater extent, or in any case in a more touching way, our being from Italy and not our being the best.
In any case, it should be acknowledged that the life story of Dinamo Sassari has a special energy, a form of shining fate. It was set up on the 23 April 1960 by the pupils of the Liceo Classico "Azuni" and other local schools. At the time it was merely a small team of boys who lived sport with cheerfulness and dedication, harbouring, as is normal at that age, great and wild dreams of victory. And yet, it is as if Dinamo maintained over time that original historic nucleus, that romantic post-school essence, even while the team rapidly ascended the various series in the following years, finally reaching Serie A in 2010-2011.
So how did we feel then, we Sardinians, on the 26 June last year when Meo Sacchetti's boys became Sardinia's first ever basketball team to conquer the Tricolore? We felt young and light, tall and strong, the strongest Italian team and, therefore, proudly Italian. Just like those schoolboys in the 60s who gave life to the team in which they could nurture their dreams and work off energy, we also thought that time is on our side and stretches out at our feet, available for any project, obedient to any desire.