Trolley
Discovering Sardinian craft beer
If you like beer, you've come to the right place – there are no less than 24 artisan breweries scattered all over Sardinia.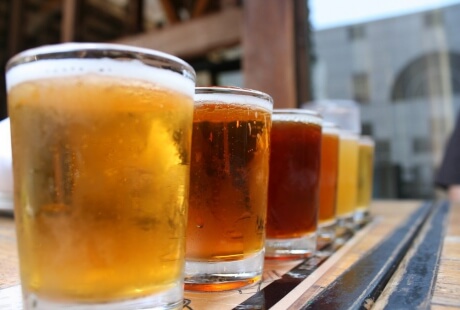 In other words, you never risk remaining without, no matter where in Sardinia you might find yourself stuck because the car has broken down (and of course assuming your first priority is not finding a mechanic!)
Let's start with the Sassari area: we'd like to recommend Anglona at Chiaramonti, Dolmen at Uri, P3 Brewing at Sassari, Sambrinus at Muros. These are all mini-breweries dedicated to producing what we like to call 'live' beer – live in the sense that it continually evolves and promises the palate adventures rather than habits.

And then we certainly can't leave out the Birrificio di Cagliari and its prize-winning Figu Blanche, a beer based on prickly-pear – yes you heard right – a type of beer which no Belgian or Irishman could even begin to imagine even after drinking all the beer produced in their countries.

And yet again, Birra Buffa, which is truly funny, since its labels are hilarious, but on the tongue it's something serious. You might also make a stop at the brew-pub of the Birrificio Rubiu in Sant'Antioco: 12,000 litres a year produced, some for resale but most for the pub's customers.

Last but not least, the Birrificio Barley at Maracalagonis (Province of Cagliari). Try its BB10, a beer produced by adding sapa (the must of cooked Cannonau grapes): with this original creation in 2010 the Brewery won the Italian Artisan Beer Championship. A host of chances for the Belgians and Irish too to sample novel beers!