Trolley
Elvio - the lavender man
Elvio Sulas, year of birth 1949, from Riola Sardo, Province of Oristano, in the Sinis.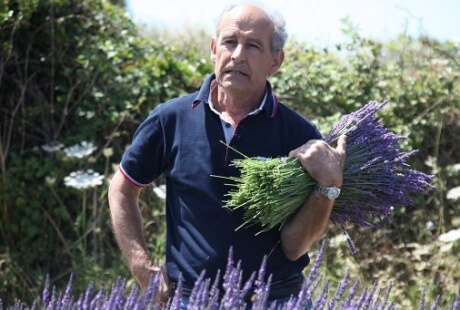 From a certain point of view, Elvio is singularly lucky, he has one extraordinary characteristic: his name immediately evokes a perfume . A placid, dreamy perfume, but at the same time mysterious and underworldly, of the three thousand plants of lavender he cultivates on his land and from which he draws exceptional pure essential oil. For us Sardinians that perfume has a precise meaning, it's a certain breeze which flowing in from the sea wafts between certain bushes and breaks on certain stones, bringing to our nostrils the fragrant sensation of belonging just a hairs' breadth below the onion skin that protects our soul.

Elvio has lived the land in many different ways, since he is a passionate student of Sardinian farming life, he has seen it as a store from which to extract the pieces of history buried there (symbolically and actually); as a farmer, he has seen the land as a fruitful ever-generous mother; as a farmer he has seen it as the clay with which to form ideas; as a curious person, he has experienced it as a cause of constant wonder. You might say that his lavender plantation in the heart of the Sinis is the culmination and synthesis of all these different lives he has drawn from the earth sown in orderly fashion in the earth itself and which, finally, have bloomed in a host of lavender shrubs.

At this time of the year we usually suggest to you some gift ideas linked closely to our land. We did it with filigree jewels, and today we do it with the "Lavanda di Elvio". Let's skip the long list of qualities and beneficial properties this plant is rich in – you can find that information anywhere on the web. What we want to do is picture the friends gathered together by Elvio to harvest his lavender by hand and then distil its oil, their laughter, their chatting, the brief stops to savour a snack of crunchy bread, pancetta, sausage, cheese and quiches. So we think that this oil would make a fine gift because when you come to think of it, it represents the extreme concentration with which one man, Elvio, has distilled his and our world into a few drops. So when a drop of precious lavender falls on your skin, the world will be free to expand freely in the air, bringing Sardinia within the walls of your room.